Why Switch?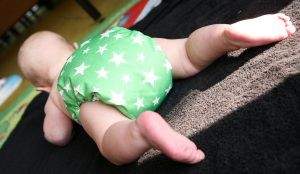 Using reusable nappies is a great choice. From birth to completion of potty training, each child is likely to require 5,000 to 6,000 nappy changes*. One set of reusable nappies can see a child through that entire period. That same set could then be handed down to a younger sibling or could be passed on for use by another child. Because of this, reusable nappies are cheaper in the long term than using disposable nappies, and they are much better for the environment too.
*= According to GoReal.org.uk 
Getting started with reusable nappies
Nappies
The number of nappies you need will depend on the age of your baby, how often they may need changing and how often you intend to go between washes. It is estimated most people own between 15-25 reusable nappies. If you are unsure whether reusable nappies are for you, you could try buying one or two to see if they could work for you.
Boosters
Nappy boosters are reusable pads that can be placed inside nappies to increase the absorbency of your nappies if needed.
Disposable Liners
Disposable liners are an optional extra, they are placed inside nappies to catch solids which can then be placed in the bin.
Storage
In between washes you may want somewhere to store dirty nappies. Often people use a wet bag or a bucket with a lid; both works well, it just depends on your preference. You may also need a smaller wet bag for when you are out and about to store dirty nappies until you get home.
Guidance for switching to reusables
If you want guidance on how to use a reusable nappy, you can download our Reusable nappy user guide, this guide contains a variety of what? on reusable nappy brands, however the list is not exhaustive?. You can also watch our reusable nappy video demonstrations.
For guidance on how to wash reusable nappies you can download our Washing Advice guide.
FAQs
When can I start using reusable nappies?
You can start using reusable nappies as soon as your baby is born! Reusable nappies come in a variety of shapes and sizes so look for the ones that state they are suitable for new-borns.
What size reusable nappies do I need?
Most reusable nappy retailers will include a size guide on their website which you may find useful. Reusable nappies tend to either be 'new-born' size or 'birth to potty' size. Birth to potty nappies are sometimes also referred to as 'one-size nappies'. New-born nappies are the appropriate size for new-borns, once they begin to grow out of this size you will need some birth to potty nappies instead. Birth-to-potty nappies are adjustable and can take your child up to about 2 years old.
We're looking for volunteer Real Nappy Advisors
Volunteer Real Nappy Advisors distribute free and impartial advice to parents interested in reusable nappies for their children.
No experience is necessary to become a volunteer Real Nappy Advisor as full training is available. It's a great opportunity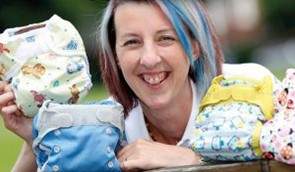 to help other people to save money and do something good for the environment.
For more information visit our volunteering page or contact the waste team on:
Email: wasteprevention@leics.gov.uk
Tel: 0116 305 7005
Did you know?
The average child will need 5,000 to 6,000 nappy changes before potty training is complete.
Find us on Facebook
Leave your feedback, ask questions or find out about the latest recycling news, events and free courses around Leicestershire
Find Us