Become an Environment Action Volunteer
We are currently recruiting for new Environment Action Volunteers (including Master Composters) in Leicestershire. We welcome diversity and invite applications from people from a wide range of backgrounds. No previous experience of volunteering is necessary and full training will be given.
We are currently accepting applications to join the Environment Action Volunteer (EAV) scheme from:
Leicestershire residents (this excludes residents of Leicester City and Rutland owing to the way the EAV scheme is funded)
People aged 18 years or over (for insurance purposes)
People with an interest in helping Leicestershire residents / communities to reduce waste, recycle more, protect and improve the environment and to live more sustainably
You do not need to have any prior knowledge of waste or environmental topics to apply, although having an interest would be beneficial.
All our EAVs are covered by appropriate insurance. Approved expenses including travel and mileage costs incurred in performing the voluntary role are reimbursed.
Apply to become an Environmental Action Volunteer
Environment Action Volunteers (EAVs for short) encourage and support people in Leicestershire to take action to reduce their impact on the environment. The scheme is managed by Leicestershire County Council's Environment and Waste Initiatives teams.
Examples of the types of activities Environment Action Volunteers get involved with include:
Raising awareness, giving advice and providing education
Attending events and talking to people about topics such as food waste prevention, home composting, waste reduction, reuse and recycling, the use of reusable nappies, carbon footprints, climate change and biodiversity
Supporting social media campaigns, initiatives and events designed to help people in Leicestershire to live more sustainably and less wastefully. For examples of current social media campaigns see here
Delivering talks, presentations and workshops for community groups and educational establishments on topics related to waste, the environment and sustainability
Promoting the availability of grant funding designed to help Leicestershire communities to undertake projects which minimise waste and / or which protect or improve the environment. Environmental Action Volunteers can also lend advice and support to such projects
Providing practical support
Supporting community fridges, community kitchens or other projects that make good use of surplus food that would otherwise go to waste
Supporting parish councils to be more aware of and take practical actions to protect biodiversity
Running cooking classes and teaching people to buy, prepare, cook and store food with minimal waste
Helping to promote and run the council-supported reusable nappy scheme and helping the parents of young children to make the change from single use disposable nappies to reusable alternatives
Supporting community groups that deliver carbon emissions and tackle climate change
Establishing compost demonstration sites where people can visit and learn about home composting, the different types of bins and composting techniques available, and where people can get involved with community composting
Contributing materials for publication via a range of media including print, social media, video and radio. For examples see here
Developing projects to demonstrate environmental good practice and show community leadership
Providing informal advice to friends, family and neighbours on a range of topics relating to waste and the environment
Helping to establish community events where people can swap, swish or donate unwanted items
Supporting or developing projects that support sustainable travel
Helping to establish or run community events where people can learn to complete maintenance or basic repairs to broken items that might otherwise go to waste
Helping to establish and run sharing schemes in Leicestershire such as tool libraries or book swaps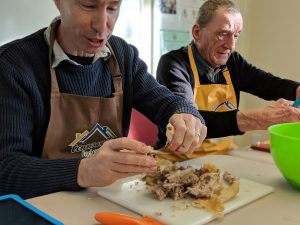 Volunteers supporting the delivery of zero waste cooking classes at a community kitchen.
The Environment Action Volunteer selection process and training
If your application is successful, you'll be invited to an informal meeting with a scheme coordinator. These meetings may be individual or as part of a group depending upon your availability. The purpose of the meeting is to provide you with an overview of the scheme and its aims, and to give you the opportunity to ask any questions that you might have. You may also have chance to meet some of the people you'll be volunteering with.
During the meeting the coordinator will discuss with you what you hope to achieve whilst volunteering, what sort of training and support you'll need in order to meet your aims, how much time you wish to commit to the Environment Action Volunteer scheme, when and where you might be available to volunteer and what qualities and experiences you might be able to draw upon in support of your activities.
If after the meeting you and the scheme coordinator decide that you wish to join the Environment Action Volunteer scheme, you'll be invited to participate in the following training sessions:
Mandatory training – covering health and safety, representing the Council and other topics so you can perform your role safely and to a good standard.
Basic training – giving you an overview and basic level of understanding of all the topics covered by the EAV scheme.
Specialist training – giving you a foundation to develop an expertise in a chosen field of interest.
You can begin volunteering after completing your mandatory and basic training, but we will encourage you to choose a specialism to become a fully fledged Environment Action Volunteer.
Specialist topics include:
Garden Organic Master Composter training – You'll learn about all things composting.  Topics include how the process works, microorganisms, what you can and can't put in a compost bin, the different types of compost bins available and how you should use your compost
Love Food Hate Waste adviser training – You'll learn about the financial, social and environmental impact of food waste, why food waste happens in the home, and a range of strategies to help people reduce it
Food waste prevention cooking classes / demonstration training (includes a Level 2 food hygiene qualification) – You'll learn how to organise and run cooking classes teaching people to buy, prepare, cook and store food with minimal waste. Your classes will be funded so you can run them at no cost to yourself or the people attending
Reusable nappy adviser training – You'll learn about the contents of our reusable nappy lending kits. It will also cover how to lend out these kits to residents as well as providing you with information and background knowledge on the impact of disposables and the advantages of using reusable nappies
Recycling and contamination training – The training covers in depth knowledge of the recycling system, what's accepted in the kerbside recycling and how to present these items, contamination and the problems it causes and engagement tools available for volunteers to use
Biodiversity and Nature- Volunteers will have the opportunity to pick specialist nature / environment modules tailored to their interests that directly relate to LCC Environmental Initiatives. Projects include the urban verge wildlife scheme, dedicated to helping re-wild and survey some of the county's roadside verges for nature, as well as opportunities to promote the planting and restoration of local woodlands, along with the survey and monitoring techniques for controlling and reporting invasive and non-native species (INNs). These roles are crucial in supporting local awareness through local education on biodiversity. Training will be supported through the new AQA Unit Award Scheme LCC are offering, an informal approach with certificates awarded that can be done in your own time, as well as a  chance to attend free specialist training workshops to broaden their skill base.  Following the training, volunteers will have the confidence to share knowledge with their local community
Love Your Clothes training – details TBC
Environment and Carbon awareness – details TBC
The exact content of your specialist training will vary depending upon the type of volunteering you want to undertake (for example, we won't train you how to run a cooking class if you don't want to run cooking classes) and the skills and experience that you bring to the role.
Once training is complete Environment Action Volunteers can choose when, where and how they volunteer, although we do suggest that a minimum of 30 hours' volunteering are completed within 12 months of completing your mandatory training. This is so that you have opportunity to practice what you have learnt in the training. Scheme co-coordinators will communicate volunteering opportunities to appropriately qualified volunteers by email. Volunteers are also expected to take a degree of responsibility for generating opportunities themselves. Environment Action Volunteers are expected to actively engage other people with appropriate messages and resources whenever opportunities arise. For example, this could entail approaching a local school and offering to do an assembly, organising to run a stall at a local event, writing an article for a local newsletter, posting something on social media, or simply chatting to a neighbour about their recycling.
Each month you'll be asked to feed back your activities to a scheme coordinator. The information you provide will be added to your personal volunteering log. Information from all Environment Action Volunteer logs is collated periodically and used to help measure the impact that the scheme is having in Leicestershire.
Find us on Facebook
Leave your feedback, ask questions or find out about the latest recycling news, events and free courses around Leicestershire
Find Us