Say "No" to junk mail to reduce the amount being posted through your door
Unsolicited junk mail can be a nuisance, but you can reduce the amount you receive in a few quick steps:
Step 1: Call Leicestershire County Council on 0116 305 7005 to request a free '"Say no to junk mail" sticker
Step 2: Reduce addressed junk mail being delivered to your home, register with the Mail Preference Service
Step 3: Reduce unaddressed junk mail being delivered to your home, join the Your Choice Scheme | Direct Marketing Association
Step 4: Further reduce unaddressed junk mail being delivered to your home, via the Opt-out scheme | Royal Mail
Step 5: Opt-out of receiving marketing materials from registered charities via the fundraising preference service. You'll need to tell them the name(s) of the charities you wish to block
Step 6: Opt-out of the open election register. Contact your local electoral registration office and ask for your details to be removed from the open register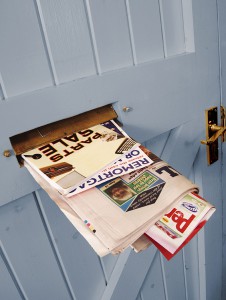 "Say no to junk mail" sticker
If you're a Leicestershire resident, you can request a free sticker to put in a visible location on or near your front door.
Mailing Preference Service
The Mailing Preference Service (MPS) is a free service funded by the direct mailing industry. By registering with the MPS, you will stop receiving mail from member companies of the Direct Marketing Association.
It will not stop unaddressed mail, mail from companies you've done business with previously, mail from oversees, or mail addressed to 'The Occupier'. You can stop some of the unaddressed mail by using the Royal Mail's opt-out scheme.
Your Choice Scheme
Members of the Direct Marketing Association (DMA) will stop delivering unaddressed mail to your home once you've joined the scheme. Please note, it won't stop distributers who aren't part of the DMA from delivering door to door mail.
Royal Mail's Opt-out Scheme
Once registered with the Royal Mail opt-out scheme, you will stop receiving unaddressed mail delivered door to door by the Royal Mail.
Please note that by opting out, you won't receive any of the unaddressed mail usually delivered by the Royal Mail, potentially including offers, leaflets and material from Central and Local Government.

Top tips
Say 'No' to further information – When you give your name and address to a company make sure you opt out of their mailing list and don't let them share your details with other companies.
Opt-out of the edited register  – When you fill out your electoral registration form make sure your details are not added to the 'edited voting register' which may be bought by companies for mailing purposes.
Return to sender – Junk mail with a return address can be returned. Just write on the envelope 'Unsolicited mail, return to sender' and pop it back in the post box.
Contact the sender – If you continue to receive junk mail contact the company directly to ask them to stop, they are legally obliged to respect your request.
Recycle what's left – Finally, any remaining junk mail can be recycled. Just be sure to remove any personal information first.
Find us on Facebook
Leave your feedback, ask questions or find out about the latest recycling news, events and free courses around Leicestershire
Find Us