4.5 million tonnes of edible food is wasted from UK homes each year, more than is wasted by supermarkets, food manufacturers, restaurants and caterers combined. Two leading causes account for nearly 70% waste in our homes, they are:
Not using food in time – 1.9 million tonnes of food worth an estimated £5.7 billion finds its way to the bin every year because we don't get around to eating it before it becomes inedible
Changes in personal preference – 1.3 million tonnes of food with an estimated value of £3.9 billion, goes in the bin every year because we change our minds and choose to eat something else instead.
Meal planning and using shopping lists tackle these two causes of food waste head on, and they are proven to be effective in most homes. They tend to be most effective when done together, and when they are done regularly. They work because they are good tools to help you keep track of your food; they give you control over the types and quantities of food in your home at any one time, and they help you use up foods before they 'go off'.
Did you know – a fringe benefit of meal planning is that it also helps you keep track of your diet. A 2017 study into meal planning habits in Europe found that people who planned meals in advance – even occasionally – had a more varied and nutritionally balanced diet, and they were less likely to be overweight or obese
Even if you don't have time to regularly meal plan and write shopping lists, or you find that you don't enjoy the process, it's worth setting aside a short period of time to do it once every so often because it's a really good way to get a snapshot of how food is being used and wasted in your household.
If you try it but decide that you can't stick to meal planning and/or writing shopping lists regularly, at least you will have gained a better understanding of your diet and how food is being used and wasted in your home, and you can move on to try other things instead.
For now, read our guide to effective meal planning and make a start when you are ready.
Meal planning guide
Do some preparation:
Before you start jotting down meals and listing things to buy, think about how often you shop for food and decide how this is going to work for you. Before you start planning you need to decide how much time your meal plan / shopping list is going to cover, how many people are you planning for / with, and what your budget is.
If you've never meal planned before – now is a good time to assess your usual 'food' behaviours and change them if they aren't really working for you. A majority of people in the UK shop for food weekly at a single supermarket. If this is what you do, it probably make sense to plan a week's worth of meals and one long shopping list. If you tend to shop more or less frequently, find yourself doing top up shops, shop at more than one place, or two or more people go on separate shopping trips, you might want to incorporate all that in the way you meal plan and how you create and use your shopping list.
You might want to take the opportunity to change your habits or streamline things a bit. Do what works for you, keeping in mind that your meal plans and your shopping list(s) should reflect how you will use them.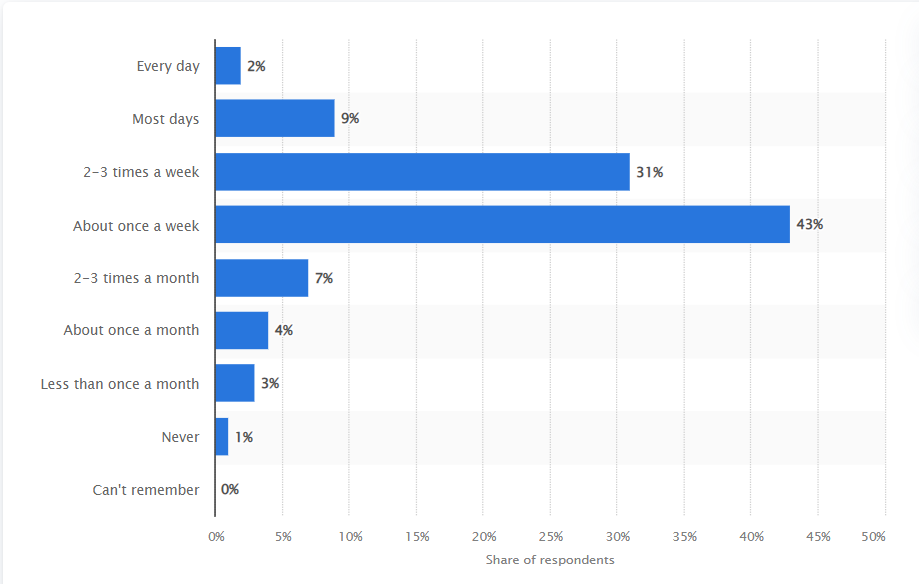 A majority of people in the UK shop weekly
When you've thought about all the above it's time to start your meal plan and to write your shopping list. Give yourself enough time to do it properly. Aim to do it before you next go food shopping, but not too far in advance (or your plans might change in the meantime).
A basic meal plan and shopping list can be put together in half an hour or less if you have a good idea of what you want to eat and a grasp of what foods you already have in your fridge, cupboards, or lurking at the back of the freezer. If you've no idea what's in the fridge or you've not written a meal plan before – It might take you longer.
Tip – List your favourite meals before you plan anything. Ask your family to help to build a list of their favourite meals. Include breakfast, main meals and side dishes, desserts and snacks. Don't forget packed lunches / picnic type meals. Keep this list and add to it over time. You can use it as inspiration to populate your meal plan(s) in the future and help speed up the process. If you do find it useful to have this list, update it periodically to avoid boredom, account for changing tastes, and to bring in seasonal foods that perhaps aren't available year-round.
If you need some inspiration, this is a list of the UK's favourite meals (according to a study from 2020). Links go to relevant recipes / info:
1. Spaghetti Bolognese
2. Pizza
3. Roast chicken
4. Fish fingers
5. Fish and chips
6. Sunday roast
7. Pasta and sauces
8. Jacket potato
9. Beans on toast
10. Scrambled egg
11. Cheese toastie
12. Lasagne
13. Pasta bake
14. Shepherd's Pie
15. Meatballs
16. Cottage pie
17. Homemade curry
18. Omelette
19. Roast beef
20. Stir fry
Time to plan:
Meal plan at the same time as writing your shopping list as the two complement each other wonderfully.
Make your plans and lists whichever way works best for you. For example, you could use a simple grid on a piece of paper, print a free template from the internet, use a white/blackboard in your kitchen, or make use of an app (see below).
If more than one person shops for food then shared shopping list apps can be helpful, so can taking and sharing a photo of your shopping list (just remember to make sure the list is kept up to date). Sticking your meal plan to your fridge might make it easier for others in your household follow it, or if your family are glued to their phones – share a photo of it with others in your household via a text or messaging app.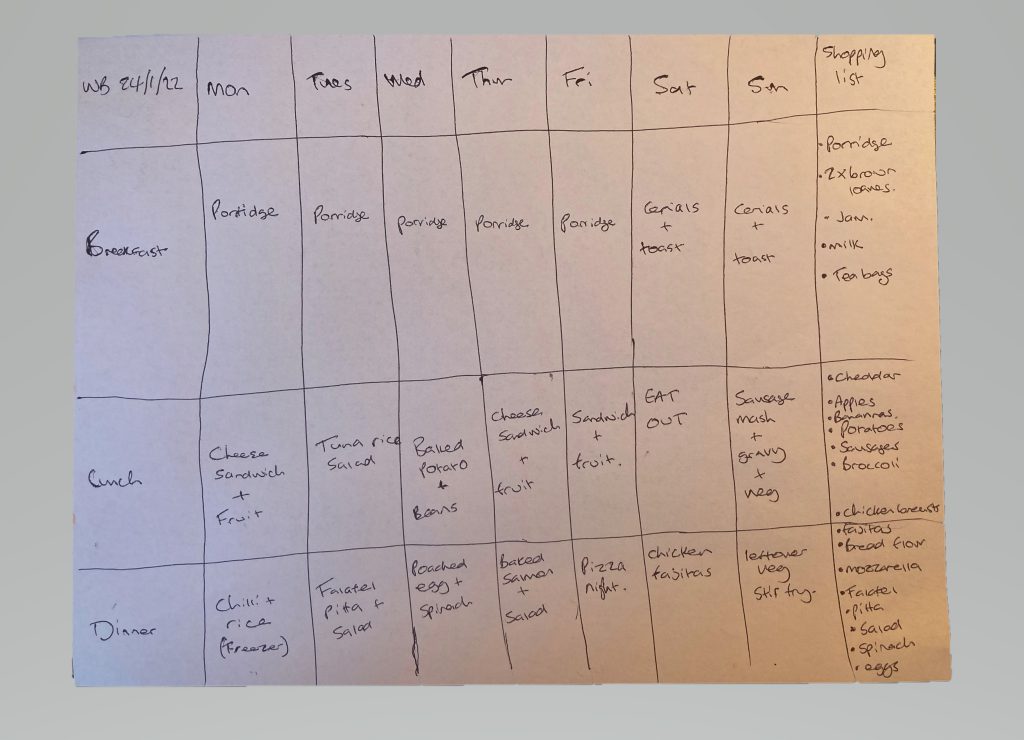 Meal planning apps
There are hundreds of meal planning apps available. Those listed below may include optional paid for content but the basic functionality is free (at the time of writing):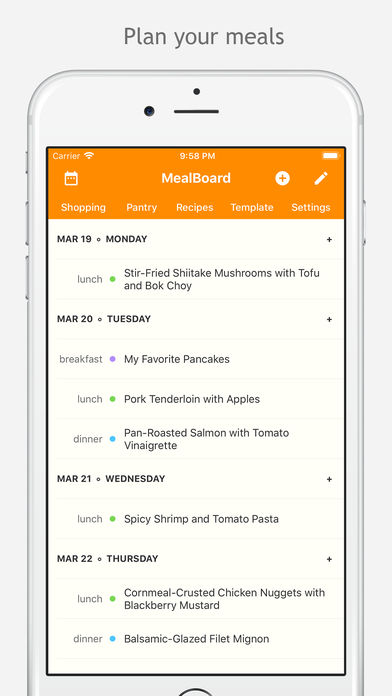 The Mealboard app – your plan and shopping list on your phone
Stocktake as you go
Check your food cupboards, fridge and freezer and base meal plans around what foods you already have to hand. Set out your meal plan so you'll use up any foods about to 'go off' early in the week / before they to become inedible or past their best. If you don't know the difference between use by and best before dates, now is a great time to brush up your knowledge.
Check your calendar.
There's no need to plan for meals you'll be eating out. Double check with your family to see how many people will be attending each meal. Knowing how many people will be eating (and how much they are likely to eat) helps you to buy, prepare / cook and serve just the right amount of food. Estimate or consult a recipe to find out and write down the quantities you'll need to buy on your shopping list – this helps you to avoid under or overbuying once you are in the shop. If you aren't sure how much you need to buy, for example because you are cooking for a larger number of people than usual, you can use a portion calculator.
Build in some flexibility.
Allow for days when you'll be short on time or likely won't fancy cooking. It's ok to give yourself a break and plan a takeaway. If you bulk-cook and then freeze meals you'll need to plan in days when you eat those quick meals (or your freezer will become full.)
Plan meals that share common ingredients.
For example, minced beef could make homemade burgers one day, bolognese sauce the following day, and if you have excess perhaps a chilli to be frozen and eaten next week. Planning meals around these shared ingredients means that you're literally making the most of your ingredients and so less food is wasted. Doing this means that you'll likely end up with a logical chain of meals that all share one or more common ingredient. You don't have to eat them all in one week – freeze some. Your list of favourite meals might come in handy for inspiration when looking for meals that share ingredients, but you can also search for recipes based on ingredients.
Take your shopping list with you to the shop.
It's no good if you find yourself at the shop and realise your shopping list is still stuck on your fridge. If you have a smartphone, it can help to take a quick photo of your list immediately after writing it so it'll be with you in the shop.
Stick to your shopping list.
The whole point of meal planning is to help you avoid buying more food than you need, so avoid the temptation to add a few extras here and there, especially if you are sticking to a budget.
Don't forget the freezer
You can bulk cook one week and use the freezer to store the surplus. Next time you need a quick meal option you'll have some pre-cooked ready meals ready to defrost and reheat. You can incorporate the saved food in a future meal plan and give yourself a break from cooking. If you aren't sure if an item of food can be frozen or not, consult a trustworthy online food storage guide
Stick to the plan
If you find yourself deviating from the plan half way through the week, don't beat yourself up – but do consider what the impact will be / has been. Try to understand why you've deviated from the plan and Incorporate that insight into next weeks planning.
Reflect and repeat
Getting into the habit of regularly meal planning makes it easier and more effective, but if you find it's not for you, that's ok. Hopefully you've learned something by giving it a try. There are other things you can do instead.
If meal planning and using shopping lists isn't for you
Get into the habit of taking a quick photo of what's in your fridge, a 'shelfie', before you go food shopping. Refer to it as you walk round the chilled food section to avoid buying duplicates of things you already have at home.
Use your shop as a pantry – this can work really well if you're able to access local shops easily. The idea is that you treat the shop as a pantry, and avoid having much food stored at home. Aim to buy only what you can eat in one day, or even in one meal. In theory this approach gives you lots of flexibility with regards food choices, but can be awkward if the shop isn't open when you need it, if it doesn't sell everything you want/ need, or if it sells items in larger quantities than you are likely to use – so to avoid food waste altogether you might need to do a bit of planning after all.
Find us on Facebook
Leave your feedback, ask questions or find out about the latest recycling news, events and free courses around Leicestershire
Find Us