Recycling through your kerbside service is a quick and convenient way to support the local community, to protect the environment and stop your rubbish bin filling up.
Your local district or borough council is responsible for collecting waste and recycling from the kerbside.
Click here to find out about what can be collected from your kerbside.
For details of your local kerbside collection, visit your district or borough council website.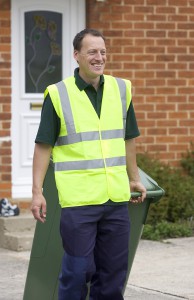 You can also use these websites to find out about assisted collections, report missed collections and request larger bins (conditions apply).
Trade waste
Some district councils offer a trade waste service to commercial customers at competitive prices. More information is available on our Business Waste page.
Other options
Materials that aren't suitable for kerbside collection can often be taken to one of the fourteen recycling and household waste sites around the county.
Alternatively, the Recycle Now website has a handy tool to locate your nearest recycling point, including one of the many bring banks in your area.
Read More about Kerbside Collections
If you require further information on your kerbside collection that you can't find here or on your district council website, you can contact your council using the contact details below.
Blaby District Council
Telephone: 0116 272 7555
Email: env.health@blaby.gov.uk
Charnwood Borough Council
Telephone: 01509 634563
Email: cleaner.greener@charnwood.gov.uk
Harborough District Council
Telephone: 01858 828282
Email: customer.services@harborough.gov.uk
Hinckley & Bosworth Borough Council
Telephone: 01455 238141
Melton Borough Council
Telephone: 01664 502502
Email: contactus@melton.gov.uk
North West Leicestershire District Council
Telephone: 01530 454545
Email: recycling@nwleicestershire.gov.uk
Oadby & Wigston Borough Council
Telephone: 0116 288 8961

Leicester City Council
Telephone: 0116 454 1002
Email: customer.services@leicester.gov.uk 
Find us on Facebook
Leave your feedback, ask questions or find out about the latest recycling news, events and free courses around Leicestershire
Find Us