Before spending a penny on reusable nappies it's a good idea to see what types, styles and brands of nappies work best for your child.
Leicestershire residents (excluding Leicester City) are entitled to borrow a reusable nappy trial kit free of charge for 4 weeks.
Kits are currently only available on a collection-only basis. Please contact us on: wasteprevention@leics.gov.uk to arrange a loan.
Our kits contain a selection of different reusable nappies which are suitable to try at any point from birth right up to potty training.
Borrowing one of our kits is simple, and there are online resources that will help you to make the most of your trial period.
You can read our reusable nappy scheme terms and conditions by clicking here
Here's what one parent said about our trial kits:
"It was a great help to be able to try out different types of reusable nappies as there are so many to choose from and I didn't know where to start".
If you're borrowing a reusable nappy trial kit or would like some additional guidance, you can download a Reusable nappy user guide and Washing Advice
You can also watch various reusable nappy video demonstrations by clicking here.
We're looking for volunteer Real Nappy Advisors

Volunteer Real Nappy Advisors distribute free and impartial advice to parents interested in reusable nappies for their children.
No experience is necessary to become a volunteer Real Nappy Advisor as full training is available. It's a great opportunity to help other people to save money and do something good for the environment.
For more information visit our volunteering page or contact the waste team on:
Email: wasteprevention@leics.gov.uk
Tel: 0116 305 7005
Read More about Reusable Nappies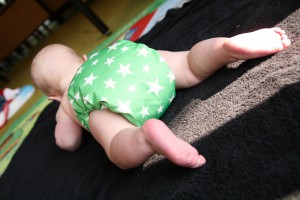 After requesting a loan kit you'll be contacted by a member of our team who will arrange a date and time to collect the kit. You'll be provided with your trial kit and shown how to access further information about the nappies in it. After 4 weeks we will contact you and arrange for the return of the kit.
If you then go on to use reusable nappies on your child after the trial, your advisor will continue to offer you support.
Using reusable nappies is a great choice. From birth to completion of potty training, each child is likely to require 5,000 to 6,000 nappy changes*. One set of reusable nappies can see a child through that entire period. That same set could then be handed down to a younger sibling, or could be sold on for use by another child. Because of this, reusable nappies are cheaper in the long term than using disposable nappies, and they are much better for the environment too.
*= According to GoReal.org.uk
Did you know?
The average child will need 5,000 to 6,000 nappy changes before potty training is complete.
Find us on Facebook
Leave your feedback, ask questions or find out about the latest recycling news, events and free courses around Leicestershire
Find Us