There are a range of composting services open to help Leicestershire's green fingered residents.
Home composting is a cost effective way to manage garden waste from your garden, but when it isn't possible, you can make use of kerbside collection services and your local recycling and household waste site.
Kerbside collections
All of Leicestershire's borough and district councils offer a kerbside collection of garden waste. Details of your service can be found on the district council website:
The garden waste collected is composted, ensuring that it doesn't go to landfill.
Recycling and Household Waste Sites
You can take your garden waste to any of Leicestershire's recycling and household waste sites, where it will be taken for composting. To find your nearest site, find out about opening times and permits, visit our recycling and household waste site page.
Organo County Compost
Organo County Compost is produced from Leicestershire's composted garden waste, and is available to purchase at any of the recycling and household waste sites at £3.25 for a 40ltr bag. It can be used as follows: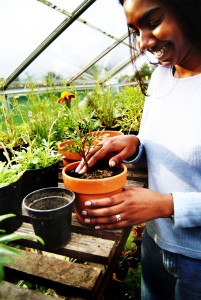 As a soil improver, simply apply to a depth of ½ cm over the soil and dig in. To improve soil requiring more work, including sandy and clay soil, apply at a rate up to 20 to 40 litres per m2, equivalent to a layer of 2-4 cm depth and leave for two weeks before digging in.
For growing fruit and vegetables, a 1cm layer along the planting trench is ideal.
For planting out, simply add a couple of handfuls with a similar amount of soil before transplanting.
For lawns and grasses, apply a ½ cm layer over the surface before laying turf, or rake into surface at a rate of 10 litres per m2 before seeding. For top dressing apply a ½ cm layer in the spring or autumn.
Find us on Facebook
Leave your feedback, ask questions or find out about the latest recycling news, events and free courses around Leicestershire
Find Us