Leftover Ingredients Recipe Competition
March 10, 2023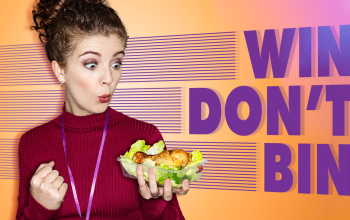 This year Food Waste Action Week (FWAW) runs from 6 – 12 March.
To raise awareness and share tips and knowledge on how you can 'win, don't bin', Leicestershire County Council are launching a recipe competition.
The county council are asking for recipe entries which use leftover ingredients such as bread, milk, potatoes, etc. to make a meal. For example, making a soup out of leftover vegetables.
The recipes from the competition will be checked and selected for an online pdf recipe book which the council aim to be available in Summer 2023.
Entries will be accepted from 10 – 26 March. Following this deadline, the recipe entries will be shortlisted and a selection sent to Community Kitchens across Leicestershire to be tested. Once this feedback has been collected, the lead member for the environment and the green agenda will choose the winning recipe which will be announced in early May.
The winner of the recipe competition will receive £30 Central England Co-op vouchers.
To enter the competition, please read the terms and conditions and submit your recipe using the recipe competition form.
Find us on Facebook
Leave your feedback, ask questions or find out about the latest recycling news, events and free courses around Leicestershire
Find Us