From Monday 18 May 2020, some Leicestershire waste sites have reopened. However, they are operating differently from the way you're used to and you'll only be able to visit if you have made a booking. More information is available on the Leicestershire County Council website.
Use this page to find information on your local recycling and household waste site (RHWS), sometimes known as a CA site or 'the tip'.
If you have household recycling or waste to dispose of that isn't collected as part of your kerbside collection service, then your local Recycling and Household Waste Site (RHWS) may be for you.
County residents should use the search function of the Leicestershire County Council website to find  details of your nearest RHWS, its opening days and what types of waste are acceptable.
City residents should use the relevant page on the Leicester City Council website.
County based RHWS are open five days per week. To ensure there's always a site open near you, the closure days vary between the sites. Opening hours at all sites are:
October to March, 9am-4pm
April to September, 9am-7pm
Whilst the service is generally free of charge, from May 2016 charges have been applied for disposal of some specified material types. Full details are available on the County Council website.
If the vehicle you're using to access the site is a commercial vehicle, van or a car with a trailer over four feet six inches long, you'll need a waste permit to tip.
You'll also need a permit for paint, asbestos or chemicals, regardless of the vehicle used. Please note that these can only be taken to certain sites.
To request a waste permit, visit the waste permits page on the County Council website.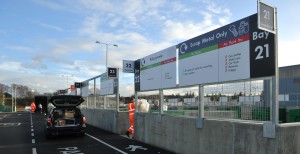 There are fourteen RHWS dotted around the county for Leicestershire residents to dispose of their waste. They accept a wide range of materials for disposal and recycling, which are detailed on the County Council website.
Trade waste?
If you need a regular collection of business or commercial waste, you can arrange a collection through your district council or through a licenced waste contractor. For occasional or one-off disposal, you can take your waste to the Whetstone Transfer Station (visit the County Council website for a list of charges and to find out if pre-booking is required), to a commercial waste transfer station, or you can hire a skip.
Find us on Facebook
Leave your feedback, ask questions or find out about the latest recycling news, events and free courses around Leicestershire
Find Us