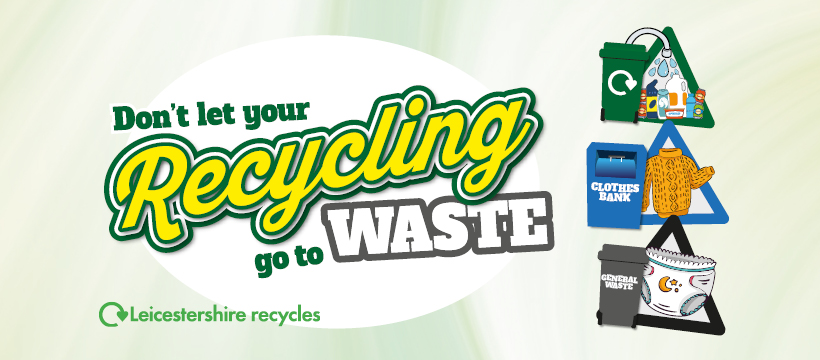 When it comes to contamination, there are several ways in which items can spoil a load of recycling. It's not just about putting the wrong thing in the wrong bin, contamination also occurs when unclean objects are mixed with clean recycling.
It's a messy issue, not to mention time-consuming and costly. Last year, 5,500 tonnes of material had to be disposed of, at a cost of just under half a million pounds, due to incorrect and dirty items being dumped in Leicestershire's recycling bins.
Whilst Leicestershire's residents currently recycle around 45% of what they throw away, an increasing amount of incorrect items are still being put into recycling bins, which is preventing lorry loads of good material from being recycled.
Leicestershire's key contaminants
There are a number of contaminants that have to be removed from Leicestershire's recycling each week, but used nappies, food waste and textiles are the most common, all of which should never be disposed of in your recycling bin. And here's why…
Dirty Nappies
Used nappies crop up more than you might think, with up to 4000 having to be removed from Leicestershire's recycling each day – that's more than 300 every hour! Not only are they non-recyclable, dirty nappies can spoil any other material they come into contact with. They also have to be removed by hand once they reach the sorting facility, which is both unpleasant and unhygienic for the person doing the picking.
Nappies should always be thrown out with your general waste and never disposed of in your recycling wheelie bin.
Food waste
One of the main contaminants that comes through Leicestershire's recycling stream, is packaging that still contains food and drink residue. This includes items like dirty margarine tubs, half-eaten pots of yogurt, and liquid left in drinks bottles. And once these items are in your bin, the damage is done. They then run the risk of soiling other materials, like paper and card which cannot be cleaned.
So, please remember to empty and rinse your pots, tubs, jars, trays and bottles, and leaving them to dry before placing them in your recycling bin. Clean recycling is key to improving the quality and quantity of material we recycle.
Textiles
Your recycling bin isn't the place for clothes and other textiles. Whilst they can be reused, they're not accepted as part of your kerbside recycling. There are two reasons for this. Firstly, they can become wrapped around the sorting facility equipment, causing extensive and costly damage. Secondly, during mixed recycling collections, textiles come into contact with all sorts of contamination, including unidentifiable liquids and broken glass, which is impossible to remove.
We'd recommend selling them, donating them or dropping them off at a charity shop, clothing bank or your nearest Recycling and Household Waste Site. Your local council may also provide a separate clothing collection, so make sure to check with them.
What can residents do to help?
As a county resident, it is your responsibility to make sure that the right things are going in the right bins. We know it can be confusing, so we've put together our top tips to help you get the most out of your recycling:
Recycling should be clean and dry, so make sure to empty food and drink containers, give them a quick rinse and then leave to drain before recycling.
Remember to put lids back on to jars and bottles before popping them in your recycling bin.
Don't forget to recycle items from all rooms in the house – cleaning product bottles, toilet roll tubes and kitchen foil included.
If in doubt, check before you chuck. If you're unsure what you can and can't recycle, take a look at our list of items that are accepted as part of your kerbside recycling – you can view it here.
Find us on Facebook
Leave your feedback, ask questions or find out about the latest recycling news, events and free courses around Leicestershire
Find Us