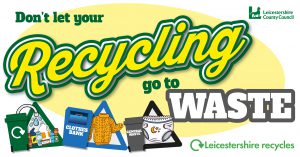 Contamination in recycling
We all want to recycle as much as we can, and Leicestershire residents are doing a fantastic job of doing that, with around half of the county's household waste now being recycled. However, contamination levels are rising as an increasing number of incorrect items are being put into recycling bins, which can prevent good materials from being recycled.
Recyclable waste collected at the kerbside is taken to a local Materials Recycling Facility (MRF) where it is sorted before being sent for recycling. The facility can only accept and sort materials suitable for recycling, so any incorrect items (like black plastic trays or discarded crisp packets) have to be removed, often by hand. This is time-consuming, unpleasant and can even be dangerous for the workers and ultimately it is costly to the taxpayer. Very dirty items such as used nappies or packaging that still contains food or drink can spoil other materials and prevent them from being recycled. Other items like textiles or items of clothing can get caught in the sorting machinery, causing costly delays.
It is wonderful that so much of Leicestershire's household waste is already being recycled but with your help we can improve the quality of our recyclable material and recycle more.
Don't let your good recycling go to waste, follow these top tips and recycle right:
Please put disposable nappies in your rubbish bin. Disposable nappies are not currently collected for recycling.
Recycling should be clean and dry. Please empty food and drink containers, then rinse and leave to drain before recycling.
Clothes and other textiles should not be put into your recycling bin. Your local council may provide a separate collection, or items can be taken to a charity shop or your nearest Recycling and Household Waste Site.
For more information about your local recycling collections, click here.
Find us on Facebook
Leave your feedback, ask questions or find out about the latest recycling news, events and free courses around Leicestershire
Find Us