Also in Talks and Education
We offer a wide range of free talks to community groups in Leicestershire focusing on waste prevention, recycling and composting.
Unfortunately, we're unable to provide face-to-face talks at the present time but we're offering access to pre-recorded video presentations which can be watched online, for free, to pre-booked audiences.  We will be happy to answer any questions you may have after watching the videos.
Where appropriate these talks can also be delivered live through Microsoft Teams where there will be opportunities to ask questions following the presentation.
A brief outline of current and upcoming topics is listed below:
Available
Recycling: (16 minutes) Information around the importance of recycling; the Waste Hierarchy; how to reduce your waste; what you can and can't recycle from home; what actually happens to your recycling once it leaves your home and finally the issues around putting the wrong things in the recycling bin.
Recycling – A quick guide: (8 minutes) Covering the importance of recycling; how to reduce our waste; what you can and can't recycle from home; how to present your recycling and where to find further information. This talk is available here.
An Introduction to Composting: (15 minutes) This covers the benefits of composting; things to consider before you start; how the process works; what items to put in and what to leave out; and how to tell when its ready.
Compost troubleshooting: (11 minutes) Occasionally the composting process goes wrong. This video covers some of the common causes and how to get your compost bin or heap back to good working order. Access the video on demand here.
Reuse: (10 minutes)  Focuses on ways to increase the reuse of items and reduce the waste we create.
Love Your Clothes (7 minutes):  Facts and information on textile waste and advice on smart buying, care and repair, upcycling, re-fashion and responsible disposal.
Coming soon
Composting – additional elements:  To cover, how to use your home made compost; making your own potting mix; making leafmould and how to pre-treat weeds.
Love Food Hate Waste: Facts and information on the scale and impact of food waste, as well as tips on how to reduce your own food waste (portioning, storage, meal planning, using up leftovers, etc.)
Please complete our online form here to express an interest in our current and upcoming talks.  We will then be in touch to discuss your requirements further.
0116 305 7005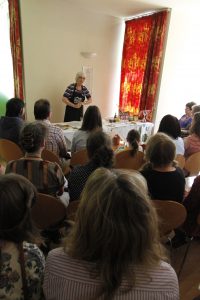 Find us on Facebook
Leave your feedback, ask questions or find out about the latest recycling news, events and free courses around Leicestershire
Find Us