Top Tips for a Spring Clean
March 24, 2023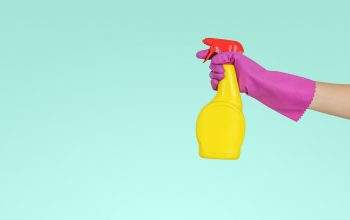 As the seasons change and the weather slowly becomes warmer, we often get the feeling that it's time to have a Spring Clean, a chance to get rid of all the stuff we don't want or need that clutters our spaces whether it's in our home, garages, or sheds.
With spring, a new season on the horizon, it seems like the perfect opportunity to make space for something new.  When clearing things out consider whether the items are still in good condition; could they be useful to someone else? Could they be repaired, repurposed, donated, recycled or even sold? See below for our guidance and suggestions:
Repair
Before you start throwing away everything you think no longer works, check to see if it can be fixed. Sometimes there might be a quick solution, whether it's just that your knives need sharpening, a button needs sewing on, or you need to change a fuse in a plug to get your lamp working again. Fixing your items may save them from ending up in the bin.
You may find that some items can be fixed by watching a short YouTube video tutorial, or you may prefer finding an article with step-by-step guidance online. Have a think about your family and friends, who do you know that has always been quite handy?
Love Your Clothes may also be able to help you to care for and repair your clothing and the Leicestershire Fixers News on Facebook may have details of a repair café near you.
Reuse
Reusing items as they are can save unnecessary waste, such as using reusable shopping bags or reusable water bottles, rather than buying single use items.
Repurposing something you already have can give it the new lease of life it needs to make it into something you like and want to use, such as an empty wine bottle that could become a new candle stick holder. It could save you a bit of money and it's the perfect way to get creative to give something your unique twist.
If you want something a little bit more crafty, searching online will open up so many reuse possibilities. You could also take on bigger projects, such as repainting furniture and adding new handles on drawers.
If you really don't want the item anymore, but it is still in a good condition, you could give it away to be reused by someone else. You can opt to give your things away to family and friends, charity shops, through websites such as Freecycle, Gumtree or Facebook Marketplace.
Selling your item is also an option. eBay and Vinted are popular platforms to sell a variety of items; if you prefer a quick purge, car boot sales might help you offload your things quickly.
A fun way to get rid of some items you no longer want would be to host your own swishing event, where you can swap items of clothing you don't want with something someone else has that you want to try! We have a Swishing Toolkit on our website to help you get set up.
You can find more reuse tips on our Reuse page.
Recycle
Putting the right items in the recycling and taking the time to present them correctly, can make a big impact on the amount we recycle in Leicestershire. We know it can be confusing, so please follow our tips to help us make the most of our recycling:
Ensure it's clean and dry – give empty food and drink containers and empty cleaning product bottles a quick rinse and then leave to drain before recycling
Put lids back on jars and bottles before recycling – this makes sure the lids get captured
Remember to recycle items from all around the house, including cleaning product bottles and toilet roll tubes from the bathroom which often get forgotten but we can't accept trigger sprays or pump action lids from household sprays and soaps
You can also read a full list of items accepted for recycling at Casepak.
Textiles
Textiles can be reused, but they are not accepted as a part of your kerbside recycling.
This is for a variety of reasons. Firstly, they can become wrapped around the sorting facility equipment, causing extensive and costly damage. Secondly, during mixed recycling collections, textiles encounter all sorts of contamination, including unidentifiable liquids and broken glass, which is impossible to remove. This means that not only will they not be reused but they won't be recycled either through this process.
Currently, North West Leicestershire, Melton and Hinckley & Bosworth councils all offer clothing/textiles collections at the kerbside. Items typically need to be placed in a plastic bag, tied shut to keep them dry and the bag is placed next to your recycling bin on your collection day (but never inside the recycling bin). Please check with your district or borough council for guidance on what textiles they accept and how to present them:
Hinckley & Bosworth Borough Council
Batteries and small electrical items are not accepted in your kerbside recycling bins. We recommend looking into whether your small electricals can be repaired before throwing them away.
If you live in North West Leicestershire, Melton or Blaby, check your district council's website as they provide a separate collection for these items from your home. Alternatively, you can visit your local Recycling and Household Waste Site and check online to see their opening hours. Many supermarkets will have a small battery collection point by the tills or entrance of the shop as well.
Please see Take Charge for more information.
Still not sure if an item can be recycled?
Take a look at Recycle Now's recycle an item A-Z
Composting
If you are venturing back out into your gardens and allotments, it's a great reminder that composting is basically a form of recycling for your garden and kitchen waste. If you already have a compost bin, now could be the time to use whatever compost you have already made. This adds nutrients into the soil which will help this year's growth.
We have plenty of information for whether you are just getting started with composting, or if you just need a bit of help with what you've got: further information can be found on Home composting
Find out how empty the compost bin on YouTube and learn how to use your compost on YouTube.
Bulky Collections
Alternatively, you can arrange a bulky collection for some larger items through your district or borough council. They collect a wide range of items, including garden furniture; bicycles; and large kitchen appliances, such as cookers and fridge freezers. They will also collect smaller items if bagged appropriately. Collections differ slightly and there is usually a charge for the service.  See this page on kerbside collections for more details.
Alternatively, you can use Recycle Now's recycle an item page to locate your nearest recycling point, including one of the many bring banks in your area.
Find us on Facebook
Leave your feedback, ask questions or find out about the latest recycling news, events and free courses around Leicestershire
Find Us