Submitted by Louisa from Oadby and Wigston.
This is a great recipe for using up vegetables that are coming toward the end of their days. This pasta dish is really tasty, costs very little to make and will feed the whole family! You can use as much or as little vegetables as you have available and it's also a great dish for experimenting with adding alternative ingredients that you have. 
Preparation time: approximately 15 minutes
Cooking time: approximately 20 minutes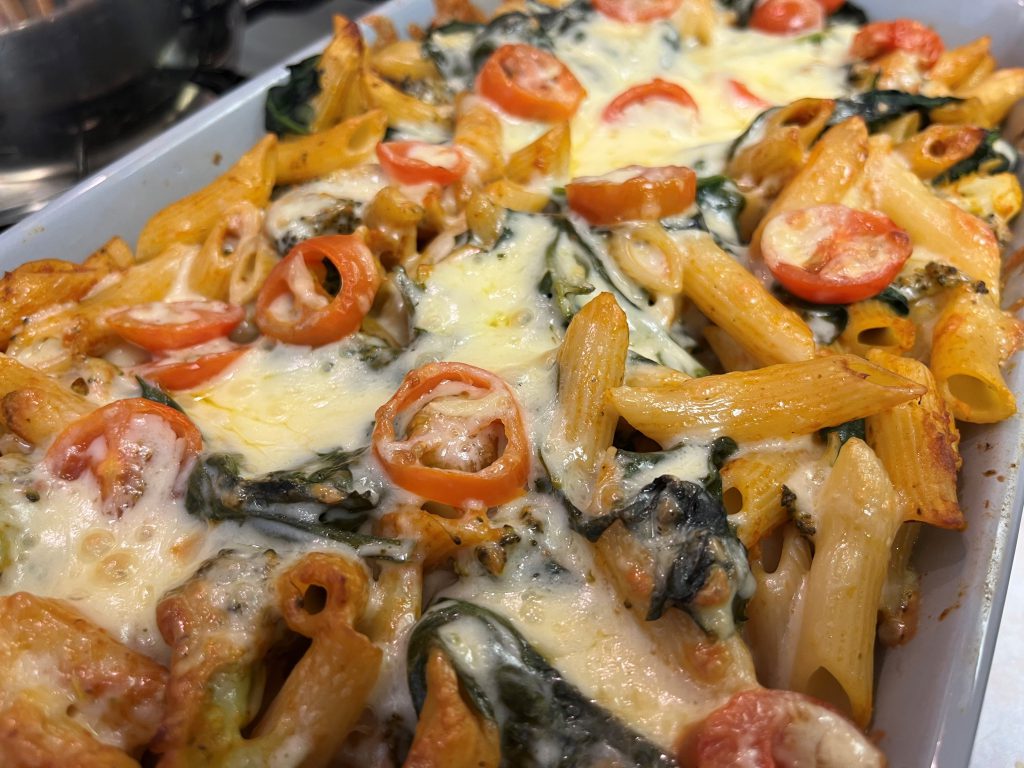 Ingredients
Salt and pepper to taste

1 tbsp oil

Jar of pesto

1 clove of garlic

1 chilli (optional)

Any vegetables that need using up (e.g. red onion, mushrooms, peppers, spinach, tomatoes, broccoli)

150g pasta

1 chicken breast, sliced – or make it vegetarian with no chicken

Grated cheese (optional)

Garlic bread (optional)
Method 
Heat the oil in a large frying pan on a high heat and add the chicken

 

In a separate pan, bring the pasta to the boil and simmer until al dente. In another pan simmer any fresh veg until al dente (around 10/15 minutes) – if you're using pre-cooked vegetables this won't take as long as cooking raw vegetables from fresh so you could fry in the next step or adjust cooking times accordingly

Turn the chicken and fry until nice and brown, add chopped garlic and chilli

 

Drain the pasta and veg and add this to the pan

 

Spoon entire jar of pesto into the pan and reduce the heat whilst mixing to ensure everything is evenly coated

 

Add sliced cherry tomatoes and spinach and toss

 

Salt and pepper to taste

 

Plate up and serve with garlic bread and a sprinkle of cheese
Top tip: Leftovers will last up to two days in the fridge. Allow the food to cool down and store in an airtight container in the fridge.
Find us on Facebook
Leave your feedback, ask questions or find out about the latest recycling news, events and free courses around Leicestershire
Find Us