Don't cause a bincident
August 9, 2023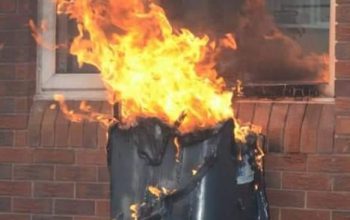 All of us have a crucial part to play in preventing recycling and waste fires by ensuring that we dispose of flammable items responsibly.
Every year, fire and rescue services have to attend at least 300 significant fires at recycling and waste management facilities across England. However, the total number of smaller un-reported fire incidents occurring across the sector is estimated to be significantly higher than this, since hundreds of fires are extinguished by operators before the need to call the emergency services.
Here in Leicestershire operations were temporarily disrupted at both Whetstone and Coalville recycling and household waste sites, when discarded batteries caught fire. These were just two of several fires caused by discarded batteries which have taken place in Leicestershire over the last few years. 
Each of these fires has the potential to turn into a major incident if not dealt with swiftly and this situation is exacerbated by the hot, dry, summer months when fires spread more quickly.
Fires at recycling and waste management facilities, or in collection vehicles and containers, not only put lives at risk, but can disrupt vital services and infrastructure; cause millions of pounds of damage to public assets and damage the environment. But members of the public can help to reduce these risks by disposing of flammable items responsibly.
There are a few items that are commonly misplaced in rubbish and recycling bins in Leicestershire that are the main causes of fires. These include:
For advice on how to safely and responsibly dispose on each item of waste listed above, please click on it to be taken to the relevant page on Lesswaste.org.uk
Find us on Facebook
Leave your feedback, ask questions or find out about the latest recycling news, events and free courses around Leicestershire
Find Us