How to have a sustainable Easter
March 31, 2023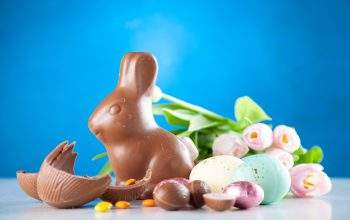 Easter can be a wasteful time of year, so we have put together our top tips to reduce your waste whilst you celebrate Easter this year and save you a bit of money in the process.
Easter eggs and chocolate
In the UK, we collectively buy over 80 million boxed chocolate eggs a year. Can you believe it? It's a whole lot of extra packaging ending up in your bin and it is estimated that the packaging surrounding your Easter egg makes up a third of the total weight of a boxed Easter egg.
You may have noticed that over the past few years chocolate companies seem to have reduced the amount of packaging used to wrap up their eggs, as well as using increasingly recyclable materials. However some single-use packaging is still used to wrap our eggs up, so it is worth keeping an eye out and opting for an egg that has minimal packaging.
Presenting your recycling
Following the tips below will help turn your recycling into something new.
Card/ cardboard: Avoid ripping into small pieces and keep whole and flatten before putting into your recycling bin so it takes up less space. Please only put dry card in your recycling.
Foil: Scrunch, clean foil up into a ball, it may be worth adding separate small bits together to make one large ball so that the machinery captures it. Please only put clean foil in the bin and try to remove any leftover chocolate crumbs before scrunching the foil into a ball.
Plastic moulds: Clean plastic moulds that are sometimes used to hold your eggs in the box can be placed into your recycling bin.
Although the items above can be recycled, the chocolate and sweet wrappers that sometimes accompany your egg cannot go in your kerbside recycling collection. If you live in Leicestershire and need a reminder, please visit our Recycle pages or if you live in Leicester City, visit recycling and waste.
Easter cards
If you enjoy sending Easter cards to celebrate the occasion, please try to buy cards that can be recycled. An increasing number of cards at this time of year feature excessive amounts of glitter and often have extra bits stuck on like pieces of ribbon and bows. Although these make for pretty eye-catching cards, they cannot be accepted as a part of your recycling and can contaminate the rest of your recycling and should be put in your general waste bin. Cards that sing or play a tune when you open them should have the battery removed and recycled separately.
Don't buy or give non-recyclable cards. Avoid glitter, bows and ribbons, and also cards with electronics .
Look out for FSC labelled cards sourced from sustainably managed forests and/or which have a high recycled content.
Send season's greetings electronically to avoid waste altogether, and ask your friends, family, colleagues, and neighbours to do the same for you. You could combine the giving of an ecard with a charitable donation.
Easter decorations
Decorating for a change of season or holiday celebration is very common and lots of people like to decorate their homes to welcome the change. Shops also stock up on seasonal decorations and accessories, often selling items that are designed to be used once and thrown away, so you have to buy even more next year.
If you plan on decorating for Easter, we suggest that you buy decorations that you love so that you can use them time and time again. If you've fallen out of love with last year's decorations, before putting them in your bin, see if you could repurpose them, sell them or give them away to charity. Just because you no longer like the decorative item doesn't mean someone else won't make good use of it.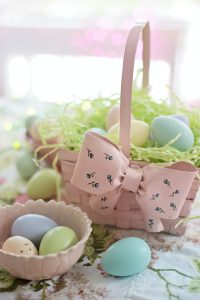 Say yes to:
Sturdy egg baskets
Refillable eggs
Cookie cutters
Leave behind:
Balloons
Flimsy egg baskets
Single use cake toppers
Easter food
As well as decorating to celebrate the change in season, it is often common to celebrate with a big family dinner.
Store your foods appropriately to keep them fresher for longer. Follow the packaging advice on storage when possible. Advice on how to store other foods / those without packaging can be found on Love Food Hate Waste's Food Storage A-Z.
There are several apps available to help you keep track of the use by and best before dates on your foods with a reminder and some will also suggest recipes based on what you have in stock.
Knowing the difference between best before and use by dates can mean that you aren't wasting food and you aren't taking any unnecessary chances with your health. If you're not sure of the difference, see here.
Make good use of your fridge and freezer by making sure they are set at the right temperature. You'll find a handy guide here.
Make sure you are making the most of your freezer by knowing what you can / can't freeze, how long items can be frozen for, and how to prevent issues like freezer burn. You'll find a wealth of advice here.
Meal planning and portioning is a good way of minimising waste and making the most of the foods we have available to us. You'll find a handy portion planner here.
You can compost many types of uncooked food waste; for more information, please click here. For information on what you can and can't compost at home see here.
If you want to find out more about avoiding food waste, take a look at the links below:
Our food waste page: https://www.lesswaste.org.uk/reduce/love-food-hate-waste/
What to do with your Easter leftovers: https://lovefoodhatewaste.com/blog/what-do-your-easter-leftovers
Love Food Hate Waste: www.lovefoodhatewaste.com
Foil and other metals
Metals such as tin foil, foil trays, tins and (empty) aerosol cans are widely recyclable. When metals are recycled, it saves energy, which in turn can help cut greenhouse gas emissions and saves the valuable metal being wasted and sent for disposal. Recycling metal can have a positive impact on the environment!
Recycled metals, such as the ones listed above, can be turned into many new items and products that you may use on a day-to-day basis. For example, the metals you recycle could become parts of your smart phone and laptop, they could be used in bedframes and mattress springs or even be used to build your choice of transport, like a bike, bus, or car.
In Leicestershire, all you need to do to make a difference is to remember to recycle your metals and present them properly in your recycling bin. Cans should be rinsed and dried, you should check your aerosol cans are empty before popping them in the bin and tin foil and foil trays may need a quick rinse or wipe to clean them before going into the recycling bin. Please do not put dirty metals in the recycling as this can contaminate other items in your bin and mean the whole lot ends up not being recycled.
Metals we can accept:
Drinks cans and food tins, including pet food tins
Metal biscuit and chocolate tins
 Aerosol cans* from the kitchen and bathroom (must be empty)
Aluminium foil (must be clean)- scrunch it up into a ball
Foil trays (must be clean)
Metal lids from jars and bottles
Please avoid putting these in your recycling:
No metal tubes, such as tomato puree
No paint tins
No cooking oil tins
*Avoid putting aerosols from the garage or shed that contain hazardous materials such as WD40, spray paint or fly killer.
Find us on Facebook
Leave your feedback, ask questions or find out about the latest recycling news, events and free courses around Leicestershire
Find Us