Ramadan Food Waste 2023
March 23, 2023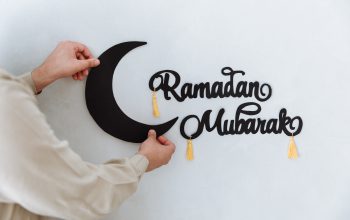 Ramadan 23 March -21 April 2023
Ramadan is the ninth month of the Islamic calendar which starts when the new moon first appears in the night sky, which is expected on the 23 of March this year. During this month Muslims fast from sunrise to sunset to reflect on themselves and their relationship with God.
If you would like to find more about why Ramadan is celebrated, The BBC   has lots of interesting resources to read.
Research conducted by Human Appeal also reveals that that many Muslims are concerned about excess food gets discarded throughout Ramadan. Here are some suggestions that can help you reduce food waste this Ramadan.
Read your labels
Keep a close eye on expiry dates on your food to make sure your food is at its best at the time you'll want to eat it. You'll find a simple guide to use by and best before dates here.
Many foods come with storage and cooking advice on the labels. Read and follow the advice to get the best from them. Of course, some foods come without labelling, particularly fresh produce including fruit and vegetables. If you don't know how to spot the freshest, tastiest produce in a shop or market, it's worth searching online for guidance as there's lots available. 'Wonder how to' has a good one covering fresh fruit.
Perfect portions
Sometimes it can be hard to know how much of something to cook to get the perfect number of portions, or if we are really hungry, we can overestimate how much we really need and end up making too much. A handy portion planner is available from Love Food Hate Waste to help you buy and prepare the perfect amount of food every time.
Avoid overbuying
By planning ahead, you could reduce the amount you overbuy and in turn reduce the amount of food you waste.
Before you even go to the shops why not write out a meal plan and check what you already have stocked up in your cupboards, so you don't run the risk over buying food you already have- a great way to save money and food!
Once you know what you've got and what you need, write a shopping list and stick to it whilst you are in the shops. Try not to get tempted by choice by sticking to what you know you need. Another way you can reduce the risk is by not going shopping when you're hungry. You could go shopping after you've eaten something to stop any unnecessary purchasing.
Love leftovers
Leftovers are great for a quick and easy meal as most of the cooking has already been done! Think of leftovers as pre-prepared ingredients for another meal. You can find lots of inspiration by searching 'leftover …. inspiration' and filling the blank with whatever leftover food you have.
If you have unexpected surplus don't be afraid to update your meal plan, getting another meal out of the food you have saves on money, time and reduces your waste. The secret to making the most out of your leftovers is storing them correctly, so check out the section below for more on storage.
Storage
To store food appropriately, you may need some airtight containers: leftover takeaway boxes are good for this, so next time you have a takeaway keep and clean the empty containers. Other items, such as bag clips, may help to keep food that comes in plastic bags fresh. You could even start to label the food you store so you know what needs eating first to optimise freshness.
As most of your food will be going into your fridge, make sure it is set to the optimum temperature to store food correctly and keep your food fresh for as long as possible. The ideal temperature for your fridge is 5oC or below, making sure it is still above freezing. If you are unsure on how to set the temperature of your fridge check out Chill the Fridge Out which will give you a guide of how to set the temperature just right based on the make and model of your fridge.
Find more about storing specific types of food on Love Food Hate Waste's website.
Find us on Facebook
Leave your feedback, ask questions or find out about the latest recycling news, events and free courses around Leicestershire
Find Us