Pancake Day- 21st February 2023
February 17, 2023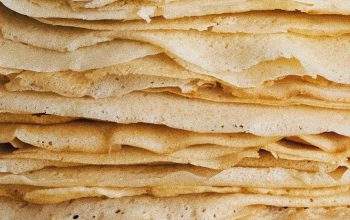 Pancake day, or Shrove Tuesday, is traditionally a day of feasting before a 40-day period of fasting (Lent) begins. Pancakes use up items of food such as eggs, milk and fat that would otherwise go to waste over the fasting period. In many ways the origins of pancake day are about preventing food waste and making the most of the foods that we have.
This pancake day is an opportunity to keep with that theme, and the tips below might help you:
1. Raid your fridge
Raid your fridge and cupboards for bits you have left over to use on your pancakes. Leftover dinner from last night could make the perfect savoury pancake pairing whilst overripe fruit such as bananas can be added to your pancake batter to make some delicious fluffy banana pancakes.
2.Eggshells
If you are opting for a vegan or eggless recipe you can miss this one out, but if you plan on using eggs in your recipe don't forget to compost the shells. You can crunch them up into fine pieces before adding them to your compost or keep them relatively whole which can provide small air pockets in your compost bin. You can even put your eggshells in the oven to make them  more brittle and have them crushed into an even finer powder.
If you are planning on gardening this  springtime, scatter crushed eggshells around your plants to help deter pests such as snails and slugs which can get to your plants and flowers and can reduce the need to use potentially harmful pesticides.
3.Lemon skins
If having lemon juice on your pancakes is your topping of choice, try saving the zest to add to your baking to make a lovely lemon drizzle cake or give making  candied lemon peel a go, to snack on or use as a garnishing. Rubbing the lemon zest and skins in sugar is a quick and cheap way to make lemon sugar which can be added to water to make homemade lemonade.
If you have a compost bin in your garden don't forget to pop your lemon skin leftovers in but remember that they're not good for wormeries as they'd be too much in one go for the worms.
4.Freeze your leftovers
If you end up with too much pancake batter this year, use it up by making as many pancakes as possible before freezing them! To freeze your pancakes, place them in the freezer separately using baking/ parchment paper to divide them before putting them in a freezer-safe container to store them. Freezing your leftover pancakes is a great way to prevent waste and have a store of delicious pancakes for whenever you fancy a pancake without the hassle of making them.
To reheat your pancakes from frozen, you could either place your frozen pancake onto a microwaveable plate, before microwaving on a high setting for about 20 seconds to defrost or place straight onto a hot pan and cook until fully defrosted.
5.Use up your batter with different recipes
Run out of freezer space but still have a lot of leftover batter? There are lots of different recipes to use up your leftover pancake batter and not let it go to waste; you could use the batter to make Yorkshire puddings for your Sunday roast or you could visit BBC good food for some more recipe inspiration. Pancake batter can be stored in the fridge for about 3 days if it's put in the fridge within 2 hours of being made and the eggs are still within the use-by date. Once ready to use again whisk the batter back together as it can split whilst in the fridge and use as normal.
Find us on Facebook
Leave your feedback, ask questions or find out about the latest recycling news, events and free courses around Leicestershire
Find Us