Let's get real about recycling!
October 14, 2022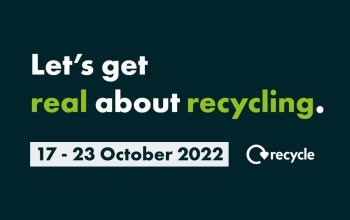 This year Recycle Week is taking place on 17 – 23 October.
WRAP's Recycle Now will be leading the way throughout the week, educating and engaging Britain and Northern Ireland on the importance of recycling and everyone here at Leicestershire County Council will be in full support. 
The focus for this week's Recycle Week is on the reality of recycling – Where are we in terms of recycling? Where do we want to aim for? How are we all going to work together to achieve this? 
We've come a long way in the past twenty years, but there is still much more to be done.
This week is a time to think about your waste in your home – is there anything in your general waste which could be recycled? Are you preparing the items for recycling correctly? Can you try to reuse something?  
This Recycle Week, why not make a pledge on something small that you can change. Something like, rinsing, drying and putting the lid back on jars for your recycling bin or making sure to not put food waste, nappies or textiles in your recycling bin. Small actions can make a big difference in the world of recycling. Make your impact today! 
For more information head over to WRAP's Recycle Now page to hear more about the campaign and what part you can play in the world of waste. 
Check out our recycling page where you can find useful tips on contamination, what you can and can't recycle in your kerbside bins and much more.
Find us on Facebook
Leave your feedback, ask questions or find out about the latest recycling news, events and free courses around Leicestershire
Find Us