National Potato Day – 19th August 2022
August 18, 2022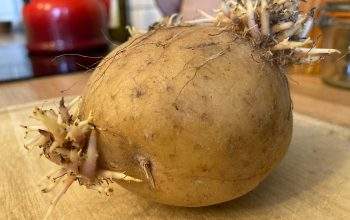 The humble potato is a staple of the UK diet, and for good reason. These tasty tubers are versatile, easy to cook and a good source of iron, potassium, and vitamin C.
Whether mashed, boiled, baked, fried, chipped or roasted; potatoes can be eaten with just about every meal, or as a meal.
National Potato Day is an opportunity to show your spuds the love they deserve, and it's desperately needed;
With that in mind, our friends at Love Food Hate Waste have a selection of top tips to make the most of any potatoes you've got lurking in your cupboards:
If you don't think you're going to get through all your potatoes in time, boil them for 5 minutes, portion them up and freeze them
Use a portion planner to make sure you only cook what you need
Green or sprouty spuds are still good to eat – chop off those bits and enjoy what's left
Your potato peelings can be easily turned into tasty crisps – really!
Read more, including how best to reheat chip-shop chips at: lovefoodhatewaste.com
Find us on Facebook
Leave your feedback, ask questions or find out about the latest recycling news, events and free courses around Leicestershire
Find Us