Avoiding food waste at Jubilee celebration events
May 31, 2022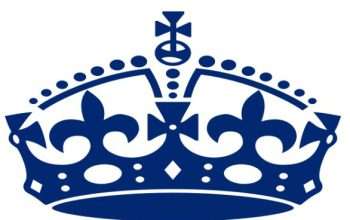 Many communities are planning street parties, afternoon teas and general get togethers in honour of the Queen's Platinum Jubilee.
Although many of these will have a red, white and blue theme; it's worth spending a bit of time trying to make them green too, by keeping the associated waste to a minimum. We've put together some helpful tips to help ensure your celebration spread ends up in bellies, not bins.
Planning advice
Buying, preparing and serving just the right amount of food avoids having surplus to deal with afterwards. The Love Food Hate Waste portion planner is brilliant tool to make sure the quantities of food you buy and prepare are just right for the number of people attending your celebration.
Sourcing surplus food to serve at your celebration can really help to keep costs down. Services like Olio and Too Good To Go offer surplus food that would otherwise go to waste for free or at discounted rates. Although you can't guarantee what's going to be available on any given day, if you can be flexible you aren't losing anything by having a look to see what's available. If you do bag yourself a bargain you can feel good that you're helping to prevent food going to waste while you celebrate.
If you are buying food in bulk and storing it ready for your celebration, it pays to make sure none of it 'goes off' before you are ready to use it. Pay close attention to best before and use by dates.  If you'll be buying more food than usual, it's a good idea to make sure you have enough storage space in your fridge (set at the right temperature), freezer and cupboards before you get the food home is a good idea too. If you are unsure where or how to store a particular item of food please check the on pack advice, or consult the Love Food Hate Waste A-Z storage guide.
Food preparation and serving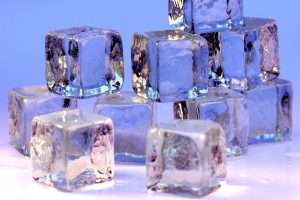 When it comes to serving food outside, keeping chilled foods cool, and warm foods warm whilst on the table can be a challenge. However, temperature control is an important food safety consideration so it's worth thinking about before your event. Ice packs and freezer blocks are an obvious way to keep chilled foods at their best, if you have enough of them. If you think you might run short you can make your own by freezing water in a tray or large dish in advance. Place your food in another dish on top of the frozen tray.
Cold foods should be kept out of the fridge for the shortest time possible and always out of direct sunlight. Think about bringing batches of cold food out of the fridge and topping the table up periodically to avoid having a surplus sat on the table getting warm. You may want to think about setting up some shade for your table too. Parasols and umbrellas are likely to come in handy in the event of a heatwave or a rain shower.
Hot foods can be just as tricky to get right. Heat packs and careful use of  insulation can help, although you should keep in mind that food can dry out if kept warm for too long. As a general rule, warm foods shouldn't be sat out for longer than 2 hours, and once cooled should be stored in a fridge or freezer. It's a good idea to set aside some room to store surplus, just in case. To help keep a potential surplus to a minimum you may want to think about cooking and serving warm foods in batches as needed rather than cooking and serving them all in one go.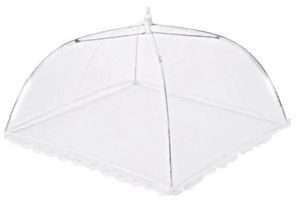 Whatever sort of food you are serving, if you are eating outside it's a good idea to keep it covered wherever possible to avoid flies landing on it. Reusable netted food covers are a great way to keep your food safe but still easily visible and accessible. Foods that are completely covered can be hard to see and difficult to access; so are more likely to go uneaten, especially at buffet style meals where there's lots to choose from and people may be serving themselves with one hand whilst balancing a plate in the other. If you do use food coverings that obscure the view of the food, consider adding a label so that people know what lies underneath the covering, or you might want to think about having someone available to help serve up certain dishes.
On the theme of keeping food under cover; more than 745,000 miles of cling film is used by households across Britain every year. Cling film is difficult to reuse, and  although it can be placed in kerbside recycling collections in most parts of Leicestershire and some supermarkets will collect it, it must be dry and free of food residue to avoid contaminating recycling collections. As it can be difficult to wash and dry clingfilm it might be better to avoid using it altogether if you can. Wax wraps, reusable food storage tubs (repurpose takeaway containers) and foil, which can be more easily washed to used again or be recycled, make good alternatives.
Tableware
An estimated 1.1 billion single-use plates and 4.25 billion items of single-use cutlery, most of which are plastic, are used in England each year, but just 10% are recycled. To keep the single-use tableware to a minimum you can ask attendees to bring their own plates or picnic sets, or hire a party kit.
If that's not likely to work for you, keep in mind that most single use tableware can't be recycled in Leicestershire. Compostable tableware is available, and can be a great alternative if you know for certain that you'll be able to home compost it afterwards, although most of it isn't. Please keep in mind that compostable tableware can't be disposed of in recycling bins or garden waste collections in Leicestershire. You'll find more information on the different types of compostable plastics and how to dispose of them on our dedicated page.
Post party tidy-up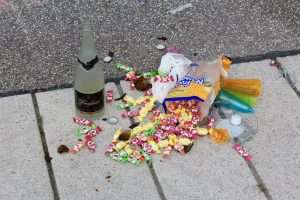 Ensure there's a plan for rubbish which might come from food, plates and cutlery, napkins and food wrappers. There should be access to a rubbish bins and recycling points. Ensure these are clearly labelled so there's no confusion over what to dispose of where, and to help ensure that items of recyclable and non-recyclable waste don't get mixed up. If you are unsure, see our recycling pages.
If you can, consider providing a food waste collection bin so scraps can be home composted; keeping in mind that you may need separate collections for uncooked vegetable scraps (which can be composted in a regular compost bin) and other foods (which need to be disposed of in a hot compost bin, or food waste digester or in the black bin). If you don't have suitable home composting facilities or kerbside food waste collection in your area, try finding a community compost facility via ShareWaste, but please arrange this in advance of collecting any waste to avoid disappointment.
For any leftover food which is still edible, encourage attendees to take home leftovers or make use of a surplus sharing service such as Olio. Either way, it might help to ensure that there are food storage containers are freely available on the day so that surplus food can be quickly redistributed. If you think you might not have enough, you could encourage your guests to bring containers with them to fill and take home.
Making the most of surplus
If you are lucky enough to be gifted surplus food after a celebration event, freezing it is a great way to store it until you are able to use it;
Leftovers can then be frozen up to two days after the event if they have been looked after correctly (see the serving advice above).
Baked items can be frozen even with icing, although they will be softer than before freezing and colours 'bleed', so it's best to consume them fresh on the day if you can. Larger cakes can be cut into slices and the slices frozen individually. These can then be condensed into a tub or freezer bag. If they will be in your freezer for a while, you should wrap each cake slice individually in foil.
Leftover sandwiches can be frozen, as long as they have been homemade fresh, don't include previously frozen ingredients (e.g. prawns) and haven't been sat out all day. Don't freeze any sandwiches containing salad as they will go soggy once defrosted.
Additional advice on freezing and storing foods is available on the Love Food Hate Waste website.
Find us on Facebook
Leave your feedback, ask questions or find out about the latest recycling news, events and free courses around Leicestershire
Find Us