International Compost Awareness Week 2022
April 27, 2022
International Compost Awareness Week
Sunday 1st May – Saturday 7th May 2022
International Compost Awareness Week is held every year in early May. It's aimed at raising awareness of the benefi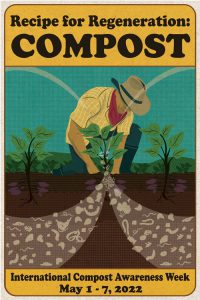 ts of composting and encourages people to compost wherever they are in the world. This year the theme is 'Recipe for Regeneration: Compost'.
This year's theme highlights the overall regenerative agriculture movement and how compost and organics recycling fit into that process.
Regenerative agriculture is a system that focuses on improving soil health using agricultural practices with the idea that healthier soil will lead to healthier, more nutrient-rich crops and, ultimately, less carbon in the atmosphere through increased carbon sequestration.
From on-farm composting, large-scale commercial composting, right down to composting in our own gardens and allotments, this amazing resource has a valuable role to play in growing healthier food, supporting healthier soils, and helping us all to create a more sustainable future.
If you haven't yet tried making your own compost, then this year we would really encourage you to give it a go.
Where to buy a bin 
For those that don't yet have a compost bin, we have just renewed our offer to Leicester & Leicestershire residents to enable you to purchase a subsidised compost bin through the national Get Composting Scheme or telephone: 0844 5714444.
Residents can buy a compost bin for as little as £12, plus delivery. It's a good offer and probably the most popular style comp
ost bin available.
If you don't want to buy a compost bin and would rather make your own, then follow the guidance on the fact sheet below:
How to build your own compost bin

Composting at home or at the allotment
Spring is an excellent time to start composting. Alternatively, it's also a good time to sort and use your compost in readiness for the growing season.
Composting is an inexpensive, natural process that transforms your fruit and vegetable peelings, along with paper and cardboard from the home and mix of garden waste, to produce a nutrient rich product, which not only feeds your soil but also improves the structure of it. It is quite a straightforward process and the important part is putting in a good mix of materials to balance what we call the items high in nitrogen (the fresh, moist, greens) and the items high in carbon (the drier, fibrous, browns).
It's also worth knowing that you don't need a large garden to compost, you can still compost with only a patio and very little garden material. You can focus on putting in your fruit and vegetable peelings, tea leaves and coffee grounds and balance these materials with a mix of paper and cardboard, such as toilet roll and kitchen roll tubes; cardboard egg boxes and scrunched up paper from the home.
So if you are now considering it, about to start or still relatively new to the process, you can find out more on our home composting page or view our range of videos below. Our first video, 'An introduction to composting', talks you through the process, including the benefits both to you and the environment; what can go in; what to leave out and how it works. Watch the video below:
If you've already started composting and encountered some issues, then the next video on troubleshooting might just be the answer. It talks you through what to do if your compost is too wet or too dry; how to speed up the composting process; how to manage tricky weeds and wildlife in your compost. Watch the video below:
Once the compost is made then the next video covers how to get the compost out of the bin. There's a knack to this, see below:
And finally, 'How to use your compost', and there are plenty of suggestions to help you make the most of your compost to benefit your garden, patio containers or allotment.
Remember the theme for this year 'Recipe for Regeneration: Compost' . Adding compost will be putting the goodness back into the soil to help improve its health; especially relevant for any fruit and vegetable growers amongst you.
If you find you regularly have food waste, including cooked foods or plate scrapings then check out our guidance on reducing food waste. We also have information on a range of food waste digesters which allow you to make the most of any wider food waste, rather than just your peelings. Take a look at our page on food waste digesters for further information.
You can find further information on composting here: http://www.lesswaste.org.uk/compost/
Events
This year, our Master Composters will be attending events during International Compost Week where they will be on hand to provide free expert advice, show you how to start a compost bin and any other questions you may have.
The following events are taking place:
| | | | | |
| --- | --- | --- | --- | --- |
| Event name | Date | Time | Location | Further information |
| Compost Corner Action Day | Saturday 1st May | 10am – 12 noon | Stevens Street Allotments, Steven Street, Market Harborough, LE16 9BB |  https://www.facebook.com/sustainableharborough/ |
| Composting Teas and Liquid Feeds | Wednesday 4th May | 10.30am – 12 noon | Stokes Wood Allotment, Stokes Drive, Leicester, LE3 9BR | https://www.facebook.com/groups/320940211413841 |
| Composting Masterclass | Saturday 7th May | 2pm – 4pm | St Hugh's Church, Granville St, Market Harborough LE16 9HF |  https://www.facebook.com/sustainableharborough/ |
| Composting for beginners | Sunday 8th May | 10.30am – 12 noon | Stokes Wood Allotment, Stokes Drive, Leicester, LE3 9BR | Place are limited so book early. There is a small fee of £5 towards the hire of the hall. |
| Burbage Common Open Day | Sunday 8th May | 10.30am – 4.30pm | Burbage Common, Leicester Road, Hinckley, LE10 3DD | The Waste Initiatives team from Leicestershire County Council will be in attendance with Master Composters |
And remember we have volunteers who can offer further guidance to support you in your composting endeavours. You can email us at: wasteprevention@leics.gov.uk or telephone us on: 0116 305 7005
Find us on Facebook
Leave your feedback, ask questions or find out about the latest recycling news, events and free courses around Leicestershire
Find Us