Step it Up this Recycle Week 2021
September 20, 2021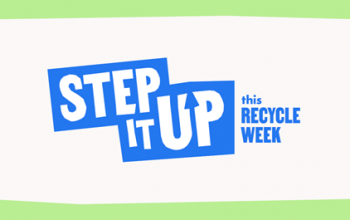 This week, Leicestershire County Council will be supporting Recycle Week and its message to Step it Up to fight climate change through small but powerful habits like recycling!
Recycling is an action everyone can do from their own home to help fight climate change. The UK's recycling saves 18 million tonnes of CO2 per year from being emitted.  This is the same environmental impact as taking 12 million cars off the road. Most of us are stepping it up to take climate change down, and recycling is one of the easiest ways to do it.
You can find more about what can and can't go in your kerbside recycling bin by visiting our recycling page.  We also have a handy print out to help with this as well!
Over 40 per cent of all household waste in Leicestershire is currently recycled, however items such as used nappies and food waste are still being incorrectly disposed of in recycling bins across the county, which can spoil a whole load of recycling.
You can make small changes; like rinsing jars, tubs and containers before recycling, or reusing plastic tubs for storage before recycling them, in order to have a big impact on our environment.
During the week we'll be posting on Leicestershire County Council's Facebook and Twitter pages. If you are already doing everything you can to reduce, reuse and recycle it would help a great deal if you could share and retweet the messages on your own social media accounts. Just use #recycleweek in your posts to have your contribution counted.
Find us on Facebook
Leave your feedback, ask questions or find out about the latest recycling news, events and free courses around Leicestershire
Find Us