Home-grown food and garden gluts
August 25, 2021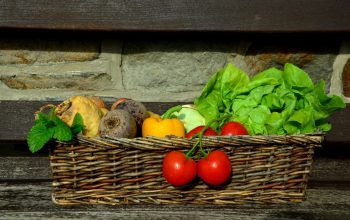 If you own an allotment or veg patch you might be finding that you have an overabundance of fresh produce at this time of year. We've collated some tips for using up, preserving and generally making the most of some of the fruits and vegetables currently in season.
Even if you haven't managed to grow anything edible this year, many of these tips are equally applicable to shop bought produce. Shopping seasonally can be a good way to bag some bargains and it's worth making the most of the food available to you wherever it's come from.
Beetroot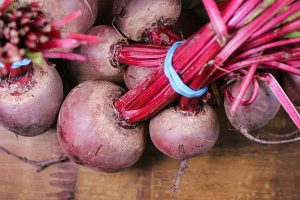 Beetroots are best lifted before they get too large and woody. Twist the tops off as cutting causes the beetroot juice to bleed out (losing moisture and flavour). However, you can also eat the tops like chard or spinach and so don't just discard them if they look good. Beetroot are great eaten raw, grated in salads. They can also be frozen but cook them first – clean carefully, leaving the skin intact to prevent bleeding and then boil for 1 to 2 hours depending on size. Skins can be rubbed off once cooked and then freeze in bags or containers, sliced, or left whole depending on size. Alternatively, pickle in vinegar, turn into chutney or select a recipe to suit.
This Beetroot, chickpea and coconut curry recipe by Rukmini Iyer is a quick and easy one-tin  dish that's made in the oven in just over an hour. It serves 2 people and so amend the recipe if you want to feed more:
Ingredients
600 g beetroot, peeled and cut into small wedges
1 onion, chopped
2 cloves garlic, crushed
5 cm root ginger, grated
1 red chilli, roughly chopped
1 tin of chickpeas, drained and rinsed
1 tin of coconut milk
1 tsp (heaped) ground cumin
1 tsp (heaped) ground coriander
1 tsp (heaped) ground ginger
½ tsp ground turmeric
1 tsp sea salt
1 tbsp vegetable oil
To serve
Basmati rice or naan bread
handful of fresh coriander
coconut flakes
Method
Preheat oven to 180 fan/200/ gas 6
Mix the onion, beetroot, and chickpeas in a roasting tin with the garlic, ginger, chilli spices, oil and salt, then transfer to the oven and roast for 40 minutes.
Give the coconut milk a good stir, then pour it over the beetroot and mix well. Return to the oven for 10 minutes.
Taste and season as required and serve with rice or naan, scattered with fresh coriander and coconut flakes.
Courgettes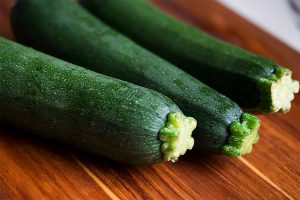 It's easy to be over-run with courgettes in the summer and they are best eaten fresh, they're delicious grated raw into salads or eaten as ribbons in a nice dressing. There are lots of creative ways of using courgettes and summer squash, but they can also be turned into jam chutney.
Courgette chutney – makes 3 -4 jars
Ingredients
700g courgettes, peeled, and cubed
1 apple, peeled and diced
250g raisins
250g dried apricots
250g sugar
500ml white vinegar
Pickling spices (20ml each of coriander seeds, allspice, peppercorns, dried chillies, mustard seeds, grated root ginger and couple of bay leaves) in a muslin bag.
Method
Put all the ingredients into a preserving pan and leave it for 24 hours, to allow the flavours to mingle. Then heat gently until the sugar dissolves. Turn up the heat slightly, cover and bring it to a simmer for about an hour until the mixture is syrupy thick, golden in colour and the courgette is translucent. Pour it into warm sterilised jars and cover (remember to use vinegar proof lids).
Herbs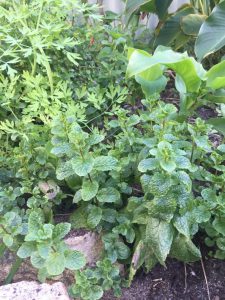 If you've been enjoying your own fresh herbs during the spring and summer months then it's worth knowing that herbs freeze well, making them convenient for cooking all year round. Unfortunately, they don't spring back to their fresh look after a freeze but rather will be damp and limp and so won't be suitable for garnishing dishes. Still, they can be a useful addition in the freezer, especially if you have bought more than you need for a particular recipe or want to preserve some from your garden.
Preparation
Wash and dry them first and then either freeze whole or chop finely. Ideally remove the leaves from woody stems, like rosemary, sage, or thyme. There's no need to do this for herbs with soft or fleshy stems, such as coriander, parsley or chives as the stems are full of flavour. To freeze whole place in freezer bags but chopped herbs can be put in ice cube trays, with a dash of water over the top. Once frozen the cubes can be tipped into a freezer bag. Remember to label well. The herbs can be used straight from the freezer into the pan.
French beans
These are best eaten or frozen soon after picking. To freeze; wash, trim the ends and blanch for 2 mins. Dip in cold water to cool before drying and packing in plastic bags or containers. Cook from frozen.
Runner beans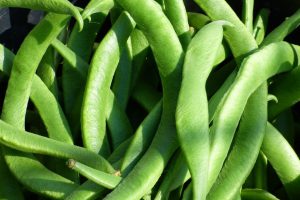 To freeze, wash, trim the ends and the stringy edges and slice into diagonal slices before blanching for 2 mins. Dip in cold water to cool before drying and freezing in bags or containers. Cook from frozen. You could also try salting your beans to preserve them: 
Salted Green Beans
Top and tail the beans and cut into 5 cm lengths, before blanching for 2 mins. Dip in cold water to cool and dry. Cover the base of a plastic container with salt and add a thick layer of the beans on top, continue layering the salt and beans until the container is full. Top with a layer of salt. Cover with a lid and put a weight on top and keep in a cool place for 6 months. The salt turns to brine which preserves the beans. To eat, soak the beans in cold water for an hour before cooking.
Tomatoes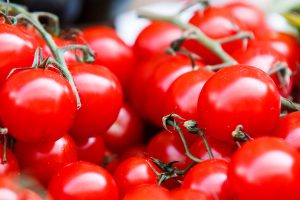 These can be frozen whole, skin on. Skins can be removed later by putting the tomatoes in a bowl of hot water before adding them to stews or sauces. Alternatively, cook first and then puree and sieve before freezing. If your tomatoes still aren't ripe as the days draw in, then this is the perfect no fuss recipe:
Pickled Green Tomatoes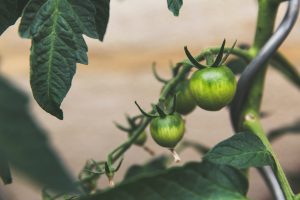 Ingredients
50g fresh root ginger
600 ml white wine vinegar
100g sugar
6 garlic cloves, peeled and sliced
900g green tomatoes, sliced
Method
Put the tomato slices into warm, sterilised jars. Bruise the root ginger by bashing it a few times with your rolling pin and then put the vinegar, sugar, garlic and ginger into a preserving pan and bring to a simmer for 10 mins. Pour the hot vinegar over the tomatoes to fully cover them and seal. If using jars, remember to use plastic coated lids as the vinegar will corrode metal. Allow the pickle to mature for a few months before enjoying with cheese. Pretty much any vegetable can be pickled.
Soups
Soups can be a wonderful way of using up gluts and there are a couple of excellent recipes below that allow you to amend and substitute ingredients to suit, which are wonderful for anyone that grows their own vegetables.
Use-it-up soup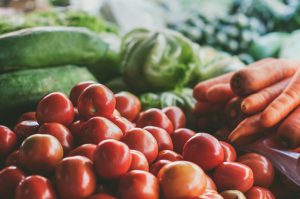 Ingredients
500g onions, diced
500g fresh tomatoes, peeled and chopped
3 medium carrots, peeled and diced
3 medium turnips or kohlrabi, peeled and diced
3 medium courgettes diced
3 handfuls of peas
2 handfuls of French or runner beans, diamond sliced
A handful of chard, spinach, or beetroot tops, finely shredded
A handful of kale or cabbage leaves, finely shredded
1 ½ tbs olive oil or butter
Sea salt and freshly ground black pepper
500ml vegetable stock
Method
Heat the oil or butter in a large pan and cook the onions until softened. Add the tomatoes and cook gently for 15 minutes until thick.
Add the stock and all the vegetables except the leafy veg. Bring to the boil, lower the heat and simmer for 10 minutes. Now add the shredded leafy veg and top up with a little more boiling water if necessary. Simmer for another 5 minutes, stirring regularly, until all the vegetables are just tender.
Taste and adjust the seasoning, then serve immediately.
Variations
You can swap any of the veg for a similar amount of something else in the same family.
Curried Root Soup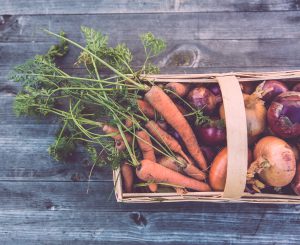 Ingredients
 1 large onion, chopped
4 garlic cloves, crushed
1 thumb-sized piece of root ginger, peeled and grated
1 tsp ground cumin
1 tsp ground coriander
1 tsp ground caraway
1 tsp turmeric
1tsp fenugreek
1 tsp cayenne pepper
200g carrots, peeled and diced
200g celeriac, peeled and diced
200g parsnips, peeled and cut diced
100g potato, peeled and diced
1.5 litre vegetable stock
1 tbsp olive oil
Sea salt and freshly ground pepper
To serve
1 tbsp chopped coriander leaves
Squeeze of lemon juice
Method
Heat the oil in a large pan, add the onion and sweat until soft. Add the garlic, ginger, and ground spices and cook for a few minutes before adding all the veg, except the potato. Cook gently for 5 to 10 mins.
Add the potato and cook for a few minutes before adding the stock. Turn up the heat and once simmering, cover and simmer gently until all the vegetables are tender, for about 10 minutes or so.
Puree the soup in a blender, in batches if necessary, or using a stick blender. You can puree until smooth, or leave slightly chunky, to suit.
Taste and adjust the seasoning, then scatter over the chopped coriander and squeeze the lemon juice in just before serving.
Variations
You can adapt the recipe and swap any of the veg (except the potatoes) for alternative root vegetables but try and keep the total weight the same.
Sweetcorn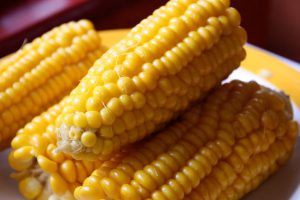 Best eaten or frozen straight after picking. To freeze on the cob, trim the stalks and pull off the outer husks and silks, blanch for 5 mins and then dip in cold water to cool before drying and freezing in bags. They can be cooked in boiling water for 5 mins straight from the freezer. Alternatively, use a knife to remove the kernels, blanch for 1 min before draining and freezing in bags or containers.
This recipe, by Rukmini Iyer, for Chipotle roasted sweetcorn with squash, black beans, feta & Lime is a tasty one-tin dish that is great for using winter squash and sweetcorn. It takes less than an hour to prepare and cook and serves 4.
Ingredients
750g squash, cut into 1cm slices
4 sweetcorn cobs
2 spring onions, finely chopped
1 lime, juice only
25g fresh coriander, finely chopped
1 tsp chipotle chilli flakes
1 tsp ground coriander
1 tsp ground cumin
1 tsp salt
2 tbsp olive oil
200g feta cheese, crumbled
To serve
1 tbsp (heaped) sour cream
Rice
Method
Preheat oven to 180°C fan/200°c/gas 6
Mix together the squash, sweetcorn and black beans in a roasting tin along with the spices, salt and olive oil, then transfer to the oven and roast for 45 minutes.
Squeeze over the lime juice, then scatter over the feta, coriander and spring onions. Serve with the sour cream and rice alongside
Potatoes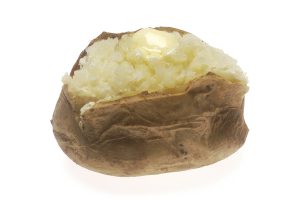 Unlike varieties classed as 'early' which are intended for eating as soon as they are out of the ground, main crop potatoes can store well for many weeks if the conditions are right. Carefully lift your potatoes and wipe each one with a gloved hand or dry cloth to remove most of the soil. Then leave the potatoes in a dry sunny spot until they are completely dry, a process known as curing. If it's raining outside cure them in a well-ventilated greenhouse, conservatory or on a windowsill. A hessian or strong paper sack makes a perfect container for your harvest of potatoes which then need to be kept in a cool, dry place. While bagging them, set aside any that are obviously diseased for disposal. Any potatoes that have been damaged during lifting can be used immediately rather than wasted. If stored correctly, you'll be able to enjoy your own potatoes roasted on Christmas Day.
Onions
If you have managed to produce a good crop of onions, it's worth knowing a couple of cheap and reliable ways of storing them until you can use them.
Raw onions can also be frozen. The best way to freeze onions is to peel and chop / dice the raw onions and to place them in a single layer on a piece of backing parchment on a baking tray. Check the tray fits in your freezer first. Scatter the onion so that individual pieces aren't touching each other as much as possible. Freezing the onions in a single layer helps to keep the individual pieces of onion separate while they freeze, so you'll not end up with a frozen clump of onion that might be difficult to cook with. Once frozen the onion pieces can be taken off the tray and re-bagged in handy portion sizes. Do this quickly so the onion doesn't thaw out and put the bagged onion back in the freezer for longer term storage. Don't forget to label and date the bags so you know what's in them. Frozen onion can be added to a pan and cooked without defrosting.
Where to get more information
Find us on Facebook
Leave your feedback, ask questions or find out about the latest recycling news, events and free courses around Leicestershire
Find Us