Free Adult Education Courses now available
June 22, 2021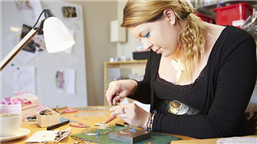 Leicestershire Adult Learning Service (LALS) have teamed up with the Waste Initiatives team to offer another round of free classes on waste reduction for the 2021-22 academic year. They will be held at venues across the county from September. Classes will include: 
Healthy Eating – Zero Waste: a ten-week course where you'll be cooking along with your course tutor and classmates. You will learn how to cook healthy meals from scratch and to bulk out meals using vegetables and pulses as well as how to make the most of your leftovers thereby creating zero waste.

 

Textile reuse: a series of five-week courses exploring how reusing old garments and fabrics to make new things is not only good for the environment, but it can also help you to save money too. Topics include make a tote bag, make a skirt, reuse old jeans, make a shift dress and make soft furnishings.

 

Reduce your use of single use plastics: one-off two-hour classes looking at how we can reduce our use of single-use plastics and how best to reuse or dispose of the plastics that we do have.

 
More information and booking details can be found on the Leicestershire County Council website or by calling 0800 988 0308. 
Find us on Facebook
Leave your feedback, ask questions or find out about the latest recycling news, events and free courses around Leicestershire
Find Us