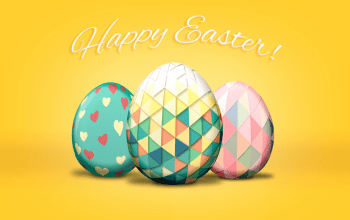 In the UK we buy more than 80 million boxed chocolate Easter eggs each year and it is estimated that more than 8,000 tonnes of waste are generated from this packaging each year.
Much of the waste generated can be recycled, however there can be some confusion about what should go in which bin. Putting the packaging in the wrong bin can mean recyclable waste is being landfilled and waste that cannot be recycled is being put in the recycling bins. This waste harms the planet and comes with a considerable disposal cost to the council and thus the taxpayer.
Residents in Leicestershire are being encouraged to consider having a waste free Easter, thinking about their use of disposable packaging and the amount of food waste produced.
We have produced a few tips to support people to reduce their waste and increase their recycling this Easter:
Buy wisely – if you are purchasing a chocolate egg, choose one with a minimal amount of packaging.
Recycle as much you can – all cardboard packaging and foil wrapping can be recycled in your recycling bin.
Plastic egg shaped packaging can be recycled in your recycling bin
Sweet wrappers contained within eggs should go in your black bin
Send an e-card – save paper by sending an electronic card to friends and family. If you do opt for a traditional card, ensure it does not have any glitter or bows on it as this means it cannot be recycled.
As with other seasonal celebrations, Easter is a time when we often push the boat out and have big meals. Love Food Hate Waste has a wealth of advice for making the most of the foods you have available to you:
Store your foods appropriately to keep them fresher for longer. Follow on packaging advice on storage when possible. Advice on how to store other foods / those without packaging can be found here.
There are several apps available to help you keep track of the use by and best before dates on your foods with a reminder and some will also suggest recipes based on what you have in stock.
Knowing the difference between best before and use by dates means you aren't wasting more food than you need to and you aren't taking any unnecessary chances with your health. If you don't know the difference see here.
Make good use of your fridge and freezer by making sure they are set at the right temperature. You'll find a handy guide here.
Make sure you are making the most of your freezer by knowing what you can / can't freeze, how long items can be frozen for, and how to prevent issues like freezer burn. You'll find a wealth of advice here.
Meal planning and portioning is a good way of minimising waste and making the most of the foods we have available to us. You'll find a handy portion planner here.
You can compost many types of uncooked food waste.  For information on what you can and can't compost at home see here.
Just so you know, potatoes, chicken and carrots are all in the top ten most commonly wasted foods in the UK. If you are planning a roast dinner for your Easter meal it's worth paying special attention to these foods.
To find a full list of how to dispose of anything else you might have over Easter, go to https://www.leicestershire.gov.uk/environment-and-planning/waste-and-recycling/how-do-i-dispose-of
Find us on Facebook
Leave your feedback, ask questions or find out about the latest recycling news, events and free courses around Leicestershire
Find Us