Nappy Contamination Campaign – 11th March 2021
March 11, 2021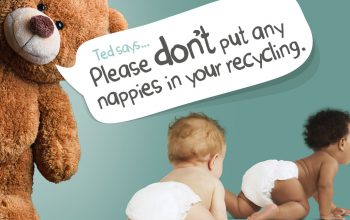 Today sees the launch of Keep Britain Tidy's national nappy contamination campaign.
Leicestershire County Council and other local authorities around the country are working in
partnership with Keep Britain Tidy to keep nappies out of the kerbside recycling.
The campaign aims to raise awareness of the problem of nappy contamination in the recycling
system and encourage behaviour change among nappy users.
You may be surprised to hear that one third of nappy users are confused about whether nappies can
be recycled at home. Most people know someone who uses nappies, who may need a little support
to dispose of nappies in the right way. A helpful reminder that disposable nappies, whether clean,
wet or dirty, cannot be recycled, could save their recycling from being treated as rubbish. It could
even save the whole neighbourhood's recycling, because just one nappy can spoil a truck load of
recycling.
Follow our Facebook page at @LeicestershireRecycling to keep up to date on the campaign
messages. Please repost where you can using the hashtag #TedSays to help spread the word.
You can find out more about recycling in Leicestershire as well as what can and cannot be put
into your kerbside recycling bin by following the link to our recycling page
www.lesswaste.org.uk/recycle/
Find us on Facebook
Leave your feedback, ask questions or find out about the latest recycling news, events and free courses around Leicestershire
Find Us