New year's prize draw
December 20, 2019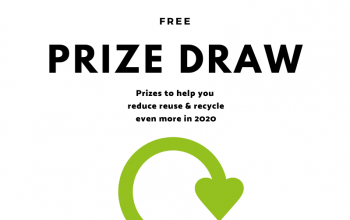 To Celebrate the New Year we are giving Leicestershire residents  (that excludes Leicester City residents) aged 18+ the opportunity to enter a free prize draw to win items that can help you to reduce, reuse or recycle more in 2020.
Our prize draw runs from 1st to 5th January 2020 and there will be a new prize up for grabs each day.
You can enter here; https://www.facebook.com/pg/LeicestershireRecycling/posts/
The prizes
To enter, please visit our Facebook page between 1st and 5th January 2020 and find the post relating to the prize(s) you would like to win. Leave a comment on that post telling us what you plan to do in 2020 to reduce, reuse or recycle your household waste more effectively.
Please read the full terms and conditions below to ensure that you are eligible and know how to enter the free prize draw.
Good luck!
Full Terms & Conditions
Our free prize draw is open to Leicestershire residents (excluding Leicester City) aged 18 or over, except County Council staff and immediate members of their families.
We will post an invitation to enter a prize draw each day from 1st to 5th January on our Facebook page: https://www.facebook.com/LeicestershireRecycling/
Each invitation will ask Leicestershire residents to leave a public comment on our post (in the form of a comment) which describes an action they intend to take that will do one or more of the following;
reduce the amount of waste they produce
increase the amount they or others recycle
limit the environmental impact of their waste
People who make comments / pledges pertinent to the guidelines  will be entered into the draw to win the prize available that day.
There will be one prize available per day from 1st to 5th January 2020. Only one entry per person per day is allowed. The closing date for entrants is 11:59pm on 5th January 2020.
One winner will be selected at random from the entrants for each day's prize draw. The Council will contact the winner(s) via Facebook to collect the following personal data from winners:
a name
an address
confirmation that they are aged 18 years or above.
This information will be used to confirm that the chosen winner is compliant with these terms and conditions, and to enable us to post prizes. We endevour to contact winners the week beginning 6th January 2020.
Winners must respond within 48 hours or we will assume that you do not consent to providing a name and address for the purposes listed above. Prizes will be posted out the week beginning 13th January 2020. We will delete all record of your name and address once the prizes have been posted out.
Entries received after the closing date will not be included in the free prize draw. The council will not be responsible for any entries that are not received by, for any reason, the closing date, whether or not due to any technical difficulties or malfunctions, or any other problem with any server or internet access. Proof of dispatch of entries will not be accepted as proof of receipt.
By entering a free prize draw, entrants warrant that they have legal capacity to enter and agree to be bound by these terms and conditions, and any other competition instructions made by the Council.
The Council will endeavor to contact the winner within 10 working days of the closing of the draw and the winner is required to confirm acceptance within 48 hours of notification. Should the Council be unable to contact the winner, or should the winner be unable to confirm acceptance of the prize, the Council reserves the right to choose an alternative winner, or to withdraw the prize.
The Council accepts no liability if the entrants ignore these rules and entrants agree to fully indemnify the Council against any claims by third party arising from any breach of these rules.
The Council endeavors to send the prize within 10 working days of acceptance, but cannot guarantee that this will be done within this time frame. The Council accepts no liability for the prize being lost, damaged or delayed in the post.
Entrants acknowledge the promotion is in no way sponsored, endorsed or administered by, or associated with, Facebook.
The competitions are being run by Leicestershire County Council, County Hall, Glenfield, Leicestershire, LE3 8RA.
The winner will be chosen by the Council from all the entries received and the Council's decision is final and no correspondence or discussion will be entered into.
The Council reserves the right to cancel the free prize draw at any stage if deemed necessary and/or amend these terms and conditions, without notice. In any of these events the Council will publish these changes on www.lesswaste.org.uk and the entrants agree that the Council will not be liable as a result of these changes. It is the responsibility of the entrants to keep themselves informed as to any updates of these rules. Cash will not be given as an alternative to a prize.
Unsuccessful entrants will not be contacted.
The winners may be asked for consent to take part in any publicity required by the Council.
Your Data.
Personal data will be processed in a fair and transparent way. For more information see; https://www.leicestershire.gov.uk/about-the-council/data-protection-and-privacy/fair-processing-notices.
In summary: if you are selected as a winner we will contact you and ask you to provide your name and address via Facebook. If you provide a name and address we will use it to post a prize to you. Your information will be deleted when your prize is posted. Your information will not be used for any additional purposes.
Find us on Facebook
Leave your feedback, ask questions or find out about the latest recycling news, events and free courses around Leicestershire
Find Us