Recycle week 2019
September 23, 2019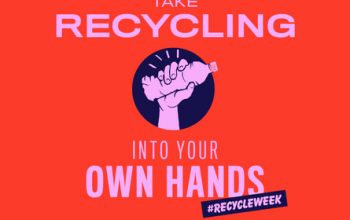 Take recycling into your own hands this Recycle Week!
From Monday 23 September to Friday 27 September, Leicestershire County Council will be lighting up its headquarters in a fetching shade of green, as well as sharing recycling tips to encourage residents to think about what they currently throw away and how to recycle right. It's all part of Recycle Week 2019, a national campaign organised by Recycle Now.
Just under half of all household waste in Leicestershire is currently recycled, however items such as used nappies and food waste are still being incorrectly disposed of in recycling bins across the county, which can spoil a whole load of recycling.
Residents can make small changes; like rinsing jars, tubs and containers before recycling, or reusing plastic tubs for storage before recycling them, in order to have a big impact on our environment.
Blake Pain, county council cabinet member for environment and transport, said: "With awareness around environmental issues increasing, Recycle Week 2019 is the ideal time to remind residents of what can and can't be recycled and encourage smart ways to reduce waste.
"As a county, we're already recycling a huge proportion of the waste we produce and with residents' help, we can improve the quality of Leicestershire's recycling and start to reduce the amount we throw away."
For helpful tips and smart ideas on how to reduce the amount of waste you're binning, keep an eye on Leicestershire County Council's Facebook and Twitter pages. If you are already doing everything you can to reduce, reuse and recycle it would help a great deal if you could share and retweet the messages on your own social media accounts. Just use #recycleweek in your posts to have your contribution counted. The more people taking action to reduce waste and recycle the better.
To find out more about what can and can't go in your kerbside recycling bin visit here.
You might also like our handy guide to recycling in Leicestershire.
Find us on Facebook
Leave your feedback, ask questions or find out about the latest recycling news, events and free courses around Leicestershire
Find Us