How to harvest your compost
November 7, 2018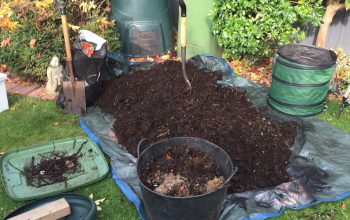 How to harvest your compost 
Written by David, a Leicestershire Master Composter
I spent a pleasant few hours in the wonderful early November day sunshine breaking down my two home compost bins. It's an annual job that I tend to put off but really enjoy once I get going!
One bin is a larger 330ltr 'dalek', the other is my original upcycled 240ltr green bin.
They are filled mostly with garden clippings, paper shredding / cardboard and green kitchen 'waste'.
Clean out and restart one of the bins using any 'still to compost' stuff from the old bins to create green / brown layers – adding some moisture (rain water if possible) plus a natural accelerator (nettle tops, comfrey, borrage, well rotted manure, diluted urine, etc).
Finally, I added the twigs to my woodland wildlife pile behind the shed and put the thankfully few plastics bits in the council black bin.
So no excuses – get out there and harvest your own black gold!
Regards David (Leicestershire Master Composter)
Find us on Facebook
Leave your feedback, ask questions or find out about the latest recycling news, events and free courses around Leicestershire
Find Us