Recycle week 2018
September 11, 2018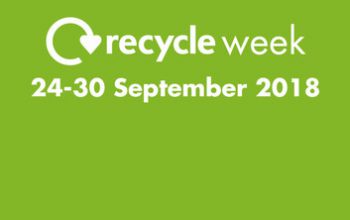 Leicestershire County Council is teaming up with Recycle Now as part of Recycle Week, which runs from today (Monday, 24 September) to Sunday, 30 September.
Now in its 15th year, Recycle Week celebrates recycling and aims to encourage everyone to recycle more by demonstrating the benefits of recycling items from around the home.
New research from Recycle Now shows that more than half (54%) of UK households put at least one item in the general rubbish that could be recycled instead; while 76% put items in their recycling bins that are not recyclable locally.
As part of Recycle Week, residents across Leicestershire are being encouraged to take some simple steps to make their recycling efforts better than ever.
Residents can play their part in Recycle Week by:
Recycling more of these items: drinks bottles, aerosols, tin foil, cleaning product bottles, trigger spray bottles, shampoo and shower gel bottles, toilet roll tubes
Making sure that these items don't go in your household recycling: nappies, leftover food, clothes and other textiles.
Throughout Recycle Week, we will be joining district councils at stands across the county, where people can ask questions and pick up top recycling tips and advice. Stalls will be at the following locations:
Harborough Indoor Market – Wednesday, 26 September (9am – 1pm)
Loughborough Market – Thursday, 27 September (9am – 2pm)
Hinckley Market – Saturday, 29 September (9am – 2pm)
To find out more about Recycling in Leicestershire, visit www.lesswaste.org.uk
Find us on Facebook
Leave your feedback, ask questions or find out about the latest recycling news, events and free courses around Leicestershire
Find Us