Volunteering is a great way to get involved in a subject you're passionate about, to meet new people and to give something back to the local community. We have a range of volunteering schemes: Real Nappy Advisors, Love Food Hate Waste Advisors, Master Composters and Waste Action Volunteers.
Volunteer Real Nappy Advisors
Real Nappy Advisors work to promote the financial and environmental benefits of using Real Nappies (also called reusable or cloth nappies). Real Nappy Advisors run a scheme whereby parents wishing to try Real Nappies on their children can borrow a kit containing a selection of different styles, brands and types free of charge for a period of four weeks. Our advisors provide assistance on how to use and care for Real Nappies so as to get the best out of them, and can give advice when parents encounter problems.
All our Real Nappy Advisors are fully trained and insured.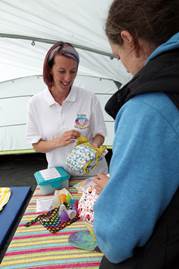 If you are interested in becoming a Real Nappy Advisor in Leicestershire, please download and read the role description linked below. Send enquiries or applications to the Waste and Environment team at Leicestershire County Council via the contact details below.
Downloads: Nappy Advisor role description
Email: wasteprevention@leics.gov.uk
Telephone: 0116 3057005
Love Food Hate Waste advisors
Food Waste is a major issue. Our Love Food Hate Waste volunteers help to raise awareness of the issue, inspiring and enabling others to take action to prevent food waste in their homes.
Our volunteers promote a set of really simple behaviours which are proven to reduce household food waste by up to 70%. Adopting these behaviours can reduce household food bills by up to £60 a month (£720 a year) and also bring a range of social and environmental benefits.
How our volunteers have chosen to spread the food waste message is truly inspirational. For example, our volunteers have chosen to run cooking classes for friends & family, they have run food waste workshops for community groups, schools and complete strangers. Our volunteers have written food blogs, taken part in food waste challenges, spoken on the radio, appeared in videos, produced recipes, put on cooking demonstrations at events, and even opened a café serving only food that would otherwise go to waste.
We support our Love Food Hate Waste volunteers by providing training, insurance and ongoing support for their activities. We pay travel and expenses incurred whilst volunteering and also give feedback on the impact of their activities.
If you are a Leicestershire resident, aged 18+ and have an interest in food and helping others / the environment, we would welcome your support. To request more information on Love Food Hate Waste Volunteering in Leicestershire, please contact us using the details below:
email: wasteprevention@leics.gov.uk
Tel: 0116 3057005
Master Composters
We are now recruiting Master Composters.
For further information, download a LCC Master Composter Role Description and an Master Composter Application Form.
Master Composters are volunteers who use their own skills and enthusiasm to help raise the awareness of the benefits of home composting, encourage more people to  compost at home and assist people with composting queries and problems.  
Based throughout the county, they are ready and willing to help you and your community, school or workplace find out more about how to reduce waste through composting.
They are experts in all things compost and can help you:
Choose the right bin for your garden and lifestyle

Get started composting

Overcome any problems you have, and help you get back on track with your existing compost bin or heap
What do Master Composters do?
The role of Master Composters is to spend a minimum of 30 hours over 12 months spreading the composting message in their local community. Since 2008,Master Composters have donated over 9,000 hours and spoken to over 45,000 people about home composting
Their work can include:
Attending a variety of events to promote home composting

Giving demonstrations to family, friends, neighbours and work colleagues

Visiting schools or community groups to give talks about home composting

Writing blogs or articles for local magazines and newspapers

Setting up displays to encourage home composting at garden centres, village fetes and other community event
If you would like further information about accessing the services of a Master Composter, or becoming one yourself, please call 0116 305 7005 or email wasteprevention@leics.gov.uk
Waste Action Volunteers
Every hour in the UK we throw away enough waste to fill the Albert Hall; we need your help to reduce this. Our volunteers can give personal advice and tips to help you and your community find our more about the benefits of reducing waste, such as saving money and time.
Why not ask a Waste Action Volunteer to:
Attend your local event

Give personalised advice to households about how to reduce waste

Set up a display stand in your local area e.g supermarket or library

Give a talk at a school or Brownie or Scout group

Write an article for your local newsletter or magazine
Click here for  role description and here for an application form.
If you would like further information about accessing the services of a Waste Action Volunteer, or becoming one yourself, please call 0116 305 7005 or email wasteprevention@leics.gov.uk
Tree Wardens
Leicestershire County Council assists in the co-ordination of the Leicestershire Tree Warden Scheme. Tree Wardens are appointed by parish/town councils or Oadby and Wigston Borough Council as guardians of your local trees and are also a source of advice and can help you organise a tree planting scheme.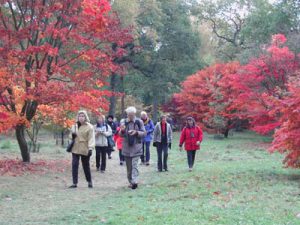 Parish Councils appoint Tree Wardens and the scheme is co-ordinated by Leicestershire County Council. If you are interested in becoming a Tree Warden or would like some more information then please contact the Tree Warden Co-ordinator on 0116305764 or email treewardens@leics.gov.uk.
Nationally the Tree Warden Scheme is co-ordinated by The Tree Council an organisation that promotes trees, the better care of trees and effective action for trees throughout the country.
Find us on Facebook
Leave your feedback, ask questions or find out about the latest recycling news, events and free courses around Leicestershire
Find Us