Also in Talks and Education
We offer a wide range of free talks to community groups in Leicestershire focusing on waste prevention, recycling and composting. A brief outline of the topics offered is listed below:
Love Food Hate Waste: Facts and information on the scale and impact of food waste, as well as tips on how to reduce your own food waste (portioning, storage, meal planning, using up leftovers, etc.)
Love Your Clothes:  Facts and information on textile waste and advice on smart buying, care and repair, upcycling, re-fashion and responsible disposal.
Reduce, Reuse, Recycle:  General information about the waste hierarchy and tips on how you can reduce your own waste.
Composting:  Our volunteer Master Composters can offer talks and advice to individuals on all things composting.
Interested groups can contact us directly for more details either by emailing
wasteprevention@leics.gov.uk or calling 0116 305 7005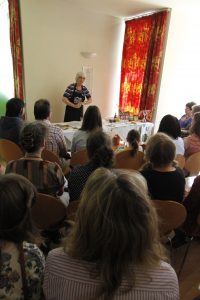 Find us on Facebook
Leave your feedback, ask questions or find out about the latest recycling news, events and free courses around Leicestershire
Find Us