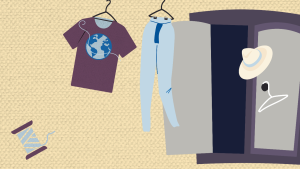 Loving Your Clothes can make a big difference to the environment
Every year an estimated 336,000 tonnes of used clothing gets thrown away in the UK, ending up in landfill or going to energy from waste. Currently, over 5% of the UK's total annual carbon and water footprints result from clothing consumption.
If clothes stayed in active use for nine months longer, it would reduce their carbon, water and waste footprints by 20-30%. In the average UK household, nea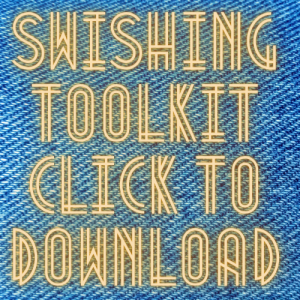 rly a third of clothes haven't been worn in the last year and there's a huge potential for us to get more out of the clothing that we already own.
A great way to keep clothes in use for longer is to swap them with others; swapping an item you no longer wear for something else that you like or need. Clothes swapping (Swishing) events not only help to reduce textile waste but can be a fun way to save money. See our Swishing Toolkit for guidance on running clothes swishing events.
Read the text below to learn more about the textile industry and  see what we can do to look after our clothes and the environment.
We also offer a talk on Love Your Clothes, details of which can be found on our Talks and Education page.
Fashion, textiles and the environment
Textile production is a major contributor to climate change. In fact, clothing has the 4th largest impact on the environment after housing, transport and food. The carbon emissions from the textiles industry are currently projected to be at least twice the level they need to be to keep within the 1.5°C target for global warming and the carbon footprint is growing!
Water use
The textile industry uses huge amounts of water, both through agriculture, such as growing cotton, but it also uses a lot of water through factory processing, such as dyeing, finishing and washing clothing. One kilogram of cotton, the equivalent weight of a pair of jeans and a shirt, can take between 10.000 – 20,000 litres of water to produce.
Water pollution
Adding rips and tears to jeans, which is currently quite fashionable, is often made by applying chemicals and these are both harmful to the workers and to the environment.
Textile production is responsible for discharging polluted water containing hazardous chemicals into rivers and water courses. In fact, 20% of water pollution globally is attributable to the dyeing and treatment of textiles.
Land use
The use of land for production of natural fibres is responsible for deforestation and biodiversity loss and the fashion industry is projected to use 35% more land for fibre production by 2030. That land could be used for growing crops for food, for biodiversity or retained as forest to store carbon.
Natural fibres v synthetic fibres
There are ethical and environmental problems associated with both natural and synthetic fibres used in clothing production.
To produce natural fibres like cotton, wool, leather, cashmere and silk, it requires the use of land, water, animals, feed and chemicals.
Synthetic fibres can be made from plastics, such as polyester, polyamide and acrylic, or from plant materials that are chemically dissolved and then spun into fibres such as rayon, viscose, lyocell or modal. Bamboo is actually a form of rayon or viscose and requires strong chemicals to process the tough cellulose into soft fibres – the process isn't environmentally friendly!
A polyester shirt has more than double the carbon footprint of a cotton shirt. It uses less water and land than cotton but emits more greenhouse gasses. It's also worth noting that most synthetic fibres currently come from virgin plastic.
Solutions – what the textile industry is doing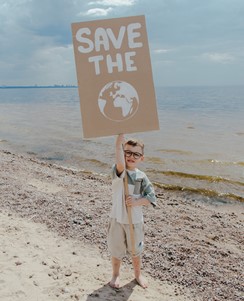 The textile industry is looking to move from fast fashion to a more sustainable future and has set up a ten-year voluntary agreement throughout the industry and retailers, called Textiles 2030, to cut carbon emissions by 50% and cut its water footprint by 30%.It's aiming to achieve this by:
Increasing the amount of recycled fibres used in new products
Designing clothes to last longer
Encouraging us to keep clothes in use for longer
Encouraging the sale of second-hand clothes
Supporting recycling of clothes at end of life.
Read more about Textiles 2030 | Wrap
Solutions – what we can do to reduce our impact

Buying clothes
Loving your clothes starts with buying smarter. This means choosing clothes that are well made and are easy to care for. Planning your wardrobe before you buy anything. The planning your wardrobe, de-cluttering your clothing and even gets you thinking about whether you need to buy new clothes at all.
Better made clothes doesn't mean having to buy them new. Buying used or vintage clothing can be just as good and will usually save you some money too. Many online sites such as Gumtree, Ebay, Vinted and Facebook Marketplace, list good quality second-hand clothing at a fraction of the price of buying new.
You could even get them for free by swapping with a friend, family member or acquaintance or at an organised event in the community. The term 'swishing' is frequently used for swapping clothes, shoes or accessories for alternative items without having to exchange money. See our Swishing Toolkit for guidance on running clothes swishing events.
Alternatively, you could hire something, especially if it's for a one-off occasion.
If you do buy, consider the material you choose and how easy it will be to look after. Will it wash well? Will it need ironing? Can it be worn in a variety of ways, ie dressed-up or down, to allow more opportunities for wearing it?

Care and repair
It's worth taking the time and trouble to read the labels on your clothes to ensure that you launder them properly and minimise the risk of accidental discolouration, damage or shrinkage.
It's usually better to use the coolest, gentlest washing cycle for your clothing where possible. This will not only use less energy, but it will help to keep your clothes looking good for longer. Washing too frequently can shorten the lifespan of many clothes and sometimes a bit of spot cleaning may be all that's required.
Do remember to sort your washing first too, emptying pockets and turning items inside out to protect the outside from fading, pilling or snagging on other garments. Consider the detergent you use and ideally don't use more than you need because it can leave a residue on your clothing even after rinsing.
Stains can completely ruin clothes and so it's worth investing some time to remove them wherever possible. There's plenty of information, or websites, on the intranet that give stain removal advice.
Tumble drying can damage clothing as well, and it uses a lot of energy. Line-dry where possible or use a drying rack indoors and if you do use a tumble dryer opt for a gentle cycle and not too hot, removing any clothing before its bone-dry.
Ironing can also cause fabrics to wear out faster and so only iron when necessary and use a low heat setting which will be kinder to your clothing and to your purse.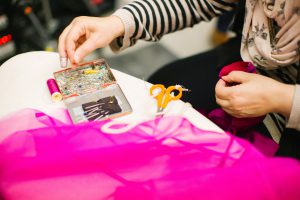 Learning how to make some basic repairs such as sewing on a button, stitching up a seam or repairing a broken zip can keep your clothing wearable for longer. If you don't fancy making the alterations yourself then there are plenty of clothing alteration shops that will do it for a fee and this can often be cheaper than buying new.
There is a variety of sewing classes available through Leicestershire adult education service, GoLearn. Some of these classes are free to attend and designed around reducing the carbon footprint of fashion by reusing fabric you may already have at home, including existing clothes too good to throw away or household items such as table cloths, curtains or duvet covers.

Fashion and Upcycle
Altering and upcycling clothes can refresh what you own, giving your clothes a new lease of life. You might want to create a new garment entirely, reusing the fabric from something you no longer wear or perhaps just jazz it up with embellishments.

Unwanted clothes
Remember, keeping clothes in use for nine months longer can reduce the carbon, water and waste footprints by 20-30%. So, if you've fallen out of love with your clothes, consider selling them online on second-hand sites. Alternatively, host a swishing event with family or friends, swapping your unwanted clothes and providing an opportunity to find something new. Watch the video to get some ideas on How to Organise a Successful Swishing Event. Donating clothes to charity shops or bring sites is another great way to keep clothes in use for longer and it also helps a good cause. Clothing doesn't need to be in perfect condition either, if the item is no longer wearable it can still be donated to a charity shop or put in a textile bank labelled as rags. However you choose to do it, please remember that clothing and textiles can't be recycled from your recycling bin at home.
Did you know?
The textiles industry is the fourth most polluting in the world, after housing, transport and food.
Find us on Facebook
Leave your feedback, ask questions or find out about the latest recycling news, events and free courses around Leicestershire
Find Us