Hungarton Country Gardens
June 11, 2022 - 11:00 am - 5:00 pm
Event Location
---
Hungarton
Townend,
Hungarton ,
Leicestershire,
LE7 9JT
Leicestershire Master Composters will be running a stall at the Hungarton country gardens event  on Saturday 11th June and Sunday 12th June 2022.
The Master Composters will be available to provide advice on a range of home composting topics, from how to get started if you are a beginner to helping resolve composting issues.
Gardens open 11am till 5pm and all proceeds raised go towards Hungarton Charities. There will also be a plant sale, refreshments and birds of prey to enjoy alongside 13 beautiful gardens to explore.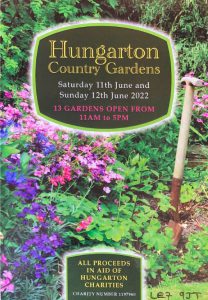 Find us on Facebook
Leave your feedback, ask questions or find out about the latest recycling news, events and free courses around Leicestershire
Find Us