Chinese New Year- 22nd January 2023
January 22, 2023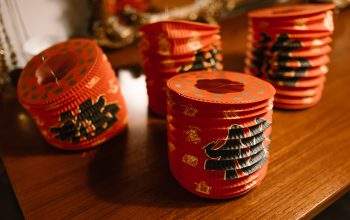 The 22nd of January 2023 marks the beginning of Chinese New Year.
Chinese New Year is often celebrated through a number of traditions including indulging in some delicious Chinese food, spending time with loved ones and sweeping out the old and bringing in the new through cleaning and organising your home. Also, red envelopes are often gifted containing money to symbolise good luck.
Here are our tips to reduce your waste this Chinese New Year and make the most of your celebrations.
Cooking at home
A lot of food waste comes from small mistakes such as spoiled produce, cooking errors (which happen to the best of us) or cooking too much food. Hopefully our tips will help you manage these common mishaps.
Portion Planning: using a portion planner

is a good way to ensure you are making the right amount of food, this may be especially helpful during celebrations like Chinese New Year when you could be catering for more than usual and don't know how much to cook.

Shopping Lists: planning ahead could save you money and reduce the amount of food you waste. Before you head to the shops check to see what you already have in your fridge and cupboards to reduce unnecessary purchases. Avoid buying unusual ingredients for a recipe you'll probably only use once, seek an alternative recipe containing more versatile ingredients instead.
Don't Shop Hungry: don't shop or cook when you are hungry – it increases the chance that you'll buy, cook or serve more than is needed.
Eat Your Leftovers: cool leftovers down as quickly as possible and store them in appropriate containers in the fridge (or freezer). Most foods will keep for three days in the fridge and will be safe to eat once thoroughly reheated. Frozen items will keep indefinitely, although it's best to use them up within 6 months to avoid a deterioration in the quality. The only thing we would advise caution with is rice, especially egg fried rice which may have been reheated once before (which is the traditional way of cooking it). Our video below might be of some help.
Getting a takeaway?
Only buy enough food as you are likely be able to eat: ask the restaurant for advice if you are unsure of their portion sizes, and don't be afraid to ask for your food to be tweaked to suit your preference (if you don't like specific ingredients – ask that they are left out: don't like it spicy? let them know).
Don't serve it all at once: you are unlikely to want to reheat food that's been served up once before and scraped off a plate. Keep some food reserved in the takeaway boxes so you can pop it in the fridge to be enjoyed when you have your appetite back.
Save the leftovers: it's absolutely fine to reheat takeaway meals. Cool leftovers quickly and store them in the fridge. Reheat thoroughly and serve the next day.. Again, we would advise caution with rice, check out the video below for more details.
Keep those takeaway boxes: If your food was delivered in plastic boxes, wash them, and keep them for storing other foods in your fridge or freezer. If you don't want them, be sure to get rid of food residue and recycle them.
Video – How to make the most of your leftover rice – https://youtu.be/2iUEqwLOfWI
Cleaning
Cleaning is a popular way to start the New Year, if you are planning to deep clean your house and purge it of unused items, try to see what could be reused or repaired before opting to throw it out. You may have items that are good enough to reuse but you no longer need so consider selling them on or giving them away to reduce unnecessary waste.
If you've finished a bottle of cleaning product, make sure it's empty of whatever was inside before placing the rinsed and drained bottle in the recycling bin.
Decorating
If you are planning in hosting some celebrations at the start of the New Year, try to buy decorations that you can use again next year, this may mean opting for decorations that do not show the Zodiac animal for this year (The Rabbit).
You could even consider making your own decorations such as confetti using scrap paper or even leaves cut into small shapes; you could try making your own paper lanterns. There are loads of tutorials on the internet showing you how to make a variety of lanterns; if you aren't feeling crafty yourself, this could be something for your kids to try at home.
Red Items
If you are celebrating this year by gifting with red envelopes, we recommend that you purchase or make ones that do not have Rabbit imagery on them so you can save and reuse them again next year. If you don't want to save them, you can recycle them, but please avoid ones with glitter as they can't be recycled.
If you want to celebrate by welcoming in the new and wearing red or buying something new as a part of your Chinese New Year celebrations, there are lots of options that won't break the bank and that will help reduce waste by reusing! First you could see what you already have that could be altered. Follow here for more practical advice on repairing or altering your clothes. If you are planning on buying something, try shopping second hand at charity shops or online sites such as eBay and vinted. When making or buying new clothes always try to consider beforehand if it is something that you are going to wear time and time again.
Find us on Facebook
Leave your feedback, ask questions or find out about the latest recycling news, events and free courses around Leicestershire
Find Us