Easter Eggs
The packaging surrounding boxed Easter eggs often makes up a third of the weight and in the UK we buy over 80 million boxed chocolate Easter eggs each year. That's a huge amount of packaging! Although most of it can be recycled now, including the cardboard, the plastic moulds and the foil, it is still very wasteful, especially when you consider that it's all single use. A lot of energy and resources go into producing that packaging and so it is worth looking for options that use less – quite a few brands this year are avoiding the use of plastic.
Remember that cardboard can be flattened before putting in your recycling bin, so that it takes up less space. Foil can be gathered and scrunched into a ball (or egg) to ensure that it is captured by the machinery and the clear plastic moulds that sometimes surround the egg can be put in the recycling too. Unfortunately, we can't recycle the plastic bags containing small mini eggs, or sweet wrappers, biscuit wrappers and chocolate bar wrappers, these will need to go in your general waste.
If you need a reminder, you can find a wealth of information on our recycling page here:
Easter Cards
If you send or give Easter cards, consider whether they are recyclable when buying them. Many cards aren't, either because of additional embellishments, metallic finishes or because they have a layer of plastic over the top of the cardboard making them shiny. Ideally, avoid glitter, bows, ribbons etc and go for cards that either say they are recyclable or that have a matt finish. Look out for FSC labelled cards which are sourced from sustainably managed forests and/or have a high recycled content. You could even consider sending cards electronically this year or just give them to family and friends that aren't local and that you won't get the opportunity to see.
Easter food
As with other seasonal celebrations, Easter is a time when we often treat ourselves and celebrate with a big meal for family and friends. With food waste recognised as contributing heavily to climate change, we have recently set up a new 4-week food waste initiative to help you reduce your food waste at home. If you sign up to the Watch Your Waste programme, you'll be able to access support and gain information on how to reduce your food waste and the opportunity to be entered into a monthly prize draw to win some fantastic prizes. To find out more and sign up, visit our Watch Your Waste page.
Further information on making the most of the foods you have, without causing waste, can be found at www.lovefoodhatewaste.com, including information on:
Storing your foods appropriately to keep them fresher for longer with the A-Z of Food Storage. It's also worth following any advice provided on packaging too.
Make good use of your fridge and freezer by making sure they are set at the right temperature. Take a look at the handy guide.
Meal planning and portioning is a good way of minimising waste and making the most of the foods we have available to us. They have a useful portion planner to help.
The Food Standards Agency also provide information on freezing and defrosting food safely and on understanding date labels.
Easter fun
Easter holidays are also a great time for family fun. There are plenty of ideas for getting the children involved, including Hubbub's:
Composting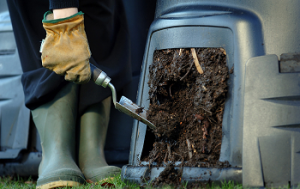 Easter is quite late this year, but spring is also a perfect time for emptying out your compost bin and if you don't already compost at home then it's a perfect time to start. Composting at home is an excellent way of disposing of your kitchen peelings without them going to landfill; you're managing your waste in a sustainable way and turning it into a valuable resource for the garden. By composing at home, you're improving the health and nutrition of your soil, conserving water, reducing soil erosion, and reducing the need to add chemicals to manage pests and diseases. We have a wealth of information on our Home Composting page, as well as a variety of pre-recorded videos to help guide you on your way. You can find the videos under talks-to-community-groups/. Look out for events taking place during International Compost Awareness Week:
Find us on Facebook
Leave your feedback, ask questions or find out about the latest recycling news, events and free courses around Leicestershire
Find Us