Food waste over Ramadan
March 31, 2022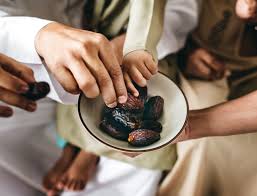 In a month that teaches moderation and discipline, a lot of excess food gets discarded throughout Ramadan. Here are some suggestions to can help you reduce food waste this Ramadan.
Planning meals:
Food waste is a colossal problem all over the world. In the UK a staggering £13 billion worth of food is wasted each year, and we tend to waste more when we change our regular eating habits, such as during festival and holiday periods. Ramadan is no exception, so over this month it's well worth planning your meals in advance to avoid buying or preparing too much food. Planning meals in advance also allows you to make the most of any ingredients you have by using them across multiple meals before they become inedible. You can download a simple free meal planner template here, but it's easy to make your own.
Know your dates & read the labels
Keep a close eye on expiry dates on your food to make sure your food is at it's best at the time you'll want to eat it. You'll find a simple guide to use by and best before dates here.
Many foods come with storage and cooking advice on the labels. Read and follow the advice to get the best from them. Of course, some foods come without labelling, particularly fresh produce including fruit and vegetables. If you don't know how to spot the freshest, tastiest produce in a shop or market, it's worth searching online for guidance as there's lots available. This is a good one covering fresh fruit.
Make perfect portions:
Hunger can encourage you to over estimate how much food you and your family can eat. Try the portion planner at https://www.lovefoodhatewaste.com/portion-planner to help you buy and prepare just the right amount of everything based on the number of people (adults and children) who'll be eating.
Avoid overbuying:
Food shopping when hungry can lead us to buy more than we need. Use your meal plan and portion guide (see above) to make a list of things you need and also the quantities you need before you go shopping. Remember to check your cupboards as you write it so you don't buy duplicate items, and also remember to take the list with you when you go shopping and to stick to it. Avoid the temptation of special offers. Food isn't a bargain if you can't store it and it's unlikely to be eaten. Visit https://www.lovefoodhatewaste.com/article/how-your-shopping-list-could-save-planet for more tips to help you avoid overbuying food on your next grocery shop.
Using leftovers:
Don't think of leftovers as unwanted food, think of them as pre-prepared ingredients for another meal. The key to making the most of surplus food is storing it so that it remains edible until you are ready to eat it,  and of course remembering to use it. Don't be afraid to update your meal plan if you find you have some unexpected surplus. If you need inspiration to make the most of what you have, check out https://www.bbcgoodfood.com/recipes/collection/leftovers where you'll be able to search for  leftover recipe ideas based on whatever foods you have available. When storing surplus food it's a good idea to label it so you'll be able to remember what it is and when you need to use it by, particularly if you are freezing it.
Store your food correctly:
Whist this may sound simple, you'll be surprised how much longer you can make your food last by storing it appropriately. Find out more on how to store different foods correctly at https://www.lovefoodhatewaste.com/article/food-storage-a-z
Your fridge is your number one tool for making fresh food last longer, so make sure you are using it correctly by setting it to the right temperature before you fill it. The ideal temperature for a fridge is 5°C or below, but above freezing. You don't need a thermometer to check your fridge temperature, just visit Chill the Fridge Out which will guide you through the process of setting it just right based on the make and model of your fridge.
Share what you can't eat:
It's better to feed bellies rather than bins, and safely sharing food with friends, neighbours, or even complete strangers is possible with a bit of consideration and planning. Consider donating excess food to a local foodbank, or make use of a food sharing app such as Olio if you have prepared food that you can't eat or store before it becomes inedible. It's also a good place to find free ingredients if you find yourself short of something, and by using the app you'll be helping someone else reduce their food waste too.
Please do remember to follow the latest advice from the government on staying Covid safe if you do plan to share food or ingredients with people outside of your household. Olio has some helpful guidance on sharing food safely with others with pointers on Covid safety and food hygiene in general, see: https://help.olioex.com/article/201-coronavirus-q-a
Learn more about the impact of wasting food:
Wasting food costs the average family in the UK over £700 a year. Food waste is also a significant contributor to climate change. Taking simple steps, such as those described above, can help save you money and help to reduce the worst impacts of climate change. You can find more information at:
Find us on Facebook
Leave your feedback, ask questions or find out about the latest recycling news, events and free courses around Leicestershire
Find Us