Chinese New Year – 1st February 2022
January 28, 2022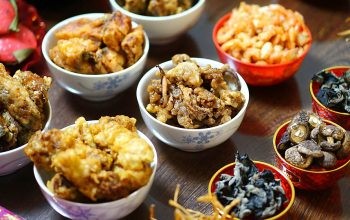 1st February 2022 marks the beginning of the Chinese New Year and for many people it's an opportunity to indulge in some delicious Chinese food.
Whether you are getting a takeaway or cooking your own Oriental feast, our tips will help you to make the most of your celebration food.
Cooking your own?
Think about how many people will be eating and make use of a portion planner for your special meal or party.
Use a list and buy only enough food / ingredients as you need. Avoid buying unusual ingredients for a recipe you'll probably only use once, seek an alternative recipe containing more versatile ingredients instead.
 Don't shop or cook when you are hungry – it increases the chance that you'll buy, cook or serve more than is needed.
Eat your leftovers – Cool leftovers down as quickly as possible and store them in appropriate containers in the fridge (or freezer). Most foods will keep for three days in the fridge and will be safe to eat once thoroughly reheated. Frozen items will keep indefinitely, although it's best to use them up within 6 months to avoid a deterioration in the quality.
If you are looking for inspiration on what to cook, check out the love food hate waste inspired recipes here and here.
Getting a takeaway?
Only buy enough food as you are likely be able to eat. Ask the restaurant for advice if you are unsure of their portion sizes, and don't be afraid to ask for your food to be tweaked to suit your preference (if you don't like specific ingredients – ask that they are left out, don't like it spicy -let them know).
Don't serve it all at once – you are unlikely to want to reheat food that's been served up once before and scraped off a plate. Keep some food reserved in the takeaway boxes so you can pop it in the fridge to be enjoyed when you have your appetite back.
Save the leftovers – Its absolutely fine to reheat takeaway meals. Cool leftovers quickly and store them in the fridge. Reheat thoroughly and serve the next day. The only thing we would advise caution with is rice, especially egg fried rice which may have been reheated once before (which is the traditional way of cooking it). Our video below might be of some help.
Keep those takeaway boxes – if your food was delivered in plastic boxes, wash them and keep them for storing other foods in your fridge or freezer. If you don't want them be sure to get rid of food residue and recycle them.
Video – How to make the most of your leftover rice – https://youtu.be/2iUEqwLOfWI
Find us on Facebook
Leave your feedback, ask questions or find out about the latest recycling news, events and free courses around Leicestershire
Find Us