Items not accepted in your household general waste bin
January 27, 2022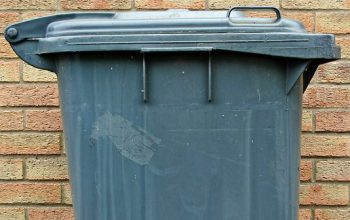 There is a wide range of items that can be recycled in Leicestershire and further information can be found on our items accepted for recycling and How do I dispose of… pages.
Most household items that aren't accepted for recycling or cannot be reused can be placed inside your general waste bin at home.  However, there are some items that cannot be placed in there due to safety reasons and need specialist disposal.
Examples include all types of gas bottles, such as the type used for camping, gas cylinders and high-pressured canisters.  These can explode under heat or pressure, causing fire and injury.
Knives, needles and syringes must also stay out as these may cause injury to the collection staff. If you find a needle, syringe, or any drug-related litter on either council-owned land or adopted public highways, please let your local district or borough council know and they will arrange to have them removed.
Batteries are a problem and must not be placed in your general waste as they have the potential to cause fires if damaged in waste treatment facilities. They also contain toxic and corrosive materials which can harm the environment if they go into landfill.
Other prohibited items include paint, clinical waste, medicines, asbestos, chemicals, pesticides, engine oil, tyres, petrol, white spirits, paint thinners, hardcore, large scrap metal items, soil and plasterboard.
For further information on how to dispose of these items safely, please visit our How do I dispose of… page.
Find us on Facebook
Leave your feedback, ask questions or find out about the latest recycling news, events and free courses around Leicestershire
Find Us