Coronavirus – waste and recycling information for residents
July 20, 2021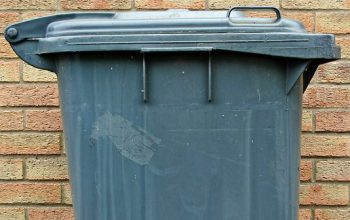 Although lockdown restrictions were eased on 19th June 2021, the guidance around the disposal of pandemic related waste has not changed. Here's a summary of the current guidance for Leicestershire residents:
COVID-specific waste
If you are self-isolating because you or someone in the household is displaying coronavirus symptoms or has tested positive for coronavirus, most household waste items can still be disposed of as normal in your general waste bin and recycling collection, or at your local Recycling and Household Waste Site (tip).
However, personal waste (such as used tissues, kitchen paper and disposable cleaning cloths) must be stored securely within disposable rubbish bags. These bags should be placed into another bag, tied securely and kept separate from other waste. You should wait for at least 72 hours (3 days) before putting this waste into your household general waste bin for collection or taking it to your local Recycling and Household Waste Site.
Please do not contaminate your recycling collection with these materials. Recycling is often sorted by hand.
At the end of your self-isolation period, you may dispose of your personal waste as normal.
If you or an individual in your household tests positive for Coronavirus and storage of personal waste (tissues etc.) is not possible, please contact your local waste collection authority (your district or borough council) and request collection as Category B infectious waste.
They will supply you with orange clinical waste bags, so that the waste can be sent for appropriate treatment. They will also provide you with the necessary information about where to store your waste and when to present it for collection.
Test kits (Lateral Flow)
Place any card and paper, which consists of the test kit box, vial holding card and leaflet, into your kerbside recycling collection.
Place and seal all other items into the long waste bag provided and put into your general waste bin.
Kerbside waste collections
Your local district or borough council are responsible for kerbside waste collections. Find the latest information about kerbside waste collection services where you live at:
Hinckley & Bosworth Borough Council
North West Leicestershire District Council
Oadby & Wigston Borough Council
To find your local Council visit https://www.gov.uk/find-local-council
 Recycling
The quality of your recycling is important. Leicestershire residents (except residents of North West Leicestershire) can use this guide to what you can and can't recycle. Guidance specifically for North West Leicestershire residents can be found here.
We understand that if you are spending more time at home than usual your bins may be filling up. If this is the case please don't be tempted to place contaminated or incorrect items in your recycling bin. These items can't be recycled and can lead to good recycling being contaminated and rejected, meaning it might end up in landfill.
Key points to remember are:
Empty, rinse and dry all bottles, jars and containers before putting them in the recycling. Any residue left in containers can contaminate other items and prevent them from being recycled.
Place lids back on
Items need to be loose, not in bags
Empty all packaging
Don't place the following items into your recycling bin:
Tissues and kitchen paper
Crisp packets, sweet wrappers and biscuit wrappers
For advice on how to dispose of specific items in Leicestershire at the kerbside or elsewhere use the How do I dispose of … A-Z
Recycling and household waste sites
For the latest news and information on Recycling and Household Waste Sites please visit the Waste and Recycling pages of the Leicestershire County Council website.
Fly-tipping
Fly-tipping is a criminal offence and you could be prosecuted.
The consequences of illegally dumping rubbish can range from a fixed penalty notice to an unlimited fine, a criminal record or time in prison.
Leaving waste outside a recycling and household waste sites is classed as fly-tipping and is a criminal offence.
Even if you mean well and leave items outside charity shops, or next to full recycling bins, this is still fly-tipping.
Please be aware that if you are using a third-party waste carrier, you should always check they have the correct licence to collect waste. If your waste is fly-tipped by an unlicensed carrier, it's still your responsibility.
Find us on Facebook
Leave your feedback, ask questions or find out about the latest recycling news, events and free courses around Leicestershire
Find Us