How to avoid contamination in your recycling
August 5, 2019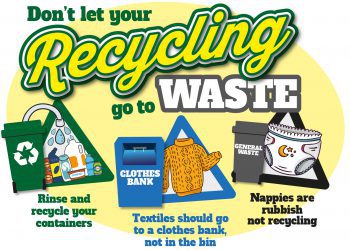 Don't let your recycling go to waste.
We want to help residents recycle right, so have launched a new campaign which focuses on reducing the amount of contamination in Leicestershire's recycling bins.
Leicestershire residents are already recycling just over 45% of what they throw away, however, a number of incorrect items are still being put into recycling bins, which can prevent good material from being recycled.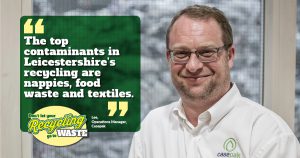 Last year, 5,500 tonnes of material placed in recycling bins in Leicestershire was rejected due to wrongly recycled items, such as disposable nappies and food waste spoiling good quality, recyclable material.
So, we've teamed up with district and borough councils across the county to improve Leicestershire's recycling output. We want to encourage everyone to recycle more by providing clear information and advice; a list of items that are accepted as part of your kerbside recycling collection can be viewed here.
But we need your help too. We want residents to take responsibility for their own rubbish by making sure that the right things are going in the right bins. Because by improving the quality of the material we recycle, we can reduce the levels of contamination.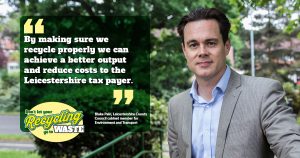 Blake Pain, county council cabinet member for environment and transport, said: "In Leicestershire we deal with about 305,000 tonnes of waste a year and 55,000 tonnes of that is recyclable material, of which, there is a certain amount of contamination.
"As a county we are aiming to recycle 50% of all household waste by 2020. So, the less we contaminate our recycling the easier it will be to meet targets, reduce recycling costs and contribute towards a more environmentally sustainable place to live."
Click here to find out more.
Find us on Facebook
Leave your feedback, ask questions or find out about the latest recycling news, events and free courses around Leicestershire
Find Us