Food waste over Ramadan
May 1, 2020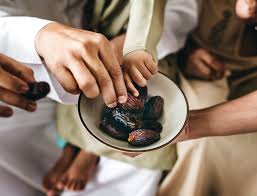 In a month that teaches moderation and discipline, a lot of food gets discarded throughout Ramadan. Here are some suggestions to can help you reduce food waste this Ramadan.
Planning meals:
Food waste is a colossal problem all over the world. In the UK a staggering £13 billion of food is wasted each year. Over the fasting period, plan your meals and freeze them, so that you're using leftovers, rather than starting from scratch every evening. Keep a close eye on expiry dates too to make sure you are using up food while it's at its best. It is also worth finding your nearest foodbank to donate any unwanted supplies you have left in the cupboard afterwards. Use overripe fruit and veg to make smoothies and soups, and be mindful of how much water you are using too.
Make smaller portions:
Try not to overload your plate during Iftar. Hunger can encourage you to fill your plate, but you can always go back for more once you have finished everything that is already on your plate. Try the portion planner at https://www.lovefoodhatewaste.com/portion-planner to get you started.
Avoid overbuying:
Shopping whilst hungry can lead us to buy things we probably don't need. Our eyes are often bigger than our stomachs and too much food can easily be bought. Try to make a list of things you need before you go shopping and ensure you stick to it. Remember to avoid giving into temptations on offers. Visit https://www.lovefoodhatewaste.com/article/how-your-shopping-list-could-save-planet for brilliant tips to help you avoid overbuying food on your next grocery shop.
Using leftovers:
If at the end of the evening there are still some leftovers, why not store it in the fridge and have it for your following suhur meal or tomorrow's iftar meal. I If you don't want to do that, try making a new dish out of it for tomorrow's iftar meal. If you need inspiration to get started, check out https://www.bbcgoodfood.com/recipes/collection/leftovers for amazing leftover recipe ideas.
Store your food correctly:
Whist this may sound simple, you'll be surprised how much longer you can make your food last by storing it in a cool, dry place. Making sure that your fridge is set to the right temperature can mean the difference between food that lasts you the week and food that gets thrown out. 5 degrees is the optimum temperature for food to be stored in your fridge. Find out more on how to store food correctly at https://www.lovefoodhatewaste.com/article/food-storage-a-z
Find us on Facebook
Leave your feedback, ask questions or find out about the latest recycling news, events and free courses around Leicestershire
Find Us