Christmas food waste
December 4, 2019
Food waste prevention
The best way to deal with Christmas food waste is to avoid it, although is perhaps easier said than done. Food is an integral part of celebrations for many people and it can feel like it takes a special effort to keep food waste prevention at the forefront of your mind at this busy time of year.
It doesn't have to be a struggle. These free tools and top tips are designed to help you to make the most of your food, help to save you money, benefit the environment and give you more time so you can enjoy yourself.
Chill the fridge out – it pays to ensure your fridge is at the right temperature before you fill it with Christmas food.
Recipe finder – because you might want some inspiration for using up the last of the leftovers, or just help using any unusual food items you have been gifted.
If you don't have time to make a shopping list, at least take a #fridgeselfie (you don't have to post it on instagram) before you go. That way you can check the photo and avoid buying doubles of items you already have / and buy ingredients so you can use up surplus you already have.
It's also a good idea to make sure you have food storage containers at the ready to squirrel away any excess food from Christmas dinner. Get some before Christmas, or ask Santa for some. Make some room in the fridge / freezer too, label and date the leftovers so you know what they are and when you need to use them.
Spending Christmas away from home?
Please spare a thought for the contents of your fridge before you leave the house. You'll find plenty of top tips here. In summary;
Freeze what you can – including some milk so you can make a hot drink when you get home.
Gift anything you can't freeze or store.
If you are unable to rehome food with your friends or neighbours please consider donating items to your local foodbank, or to make use of one of the food sharing apps available such as Olio.
Composting food scraps over Christmas
Composting food scraps and peelings is good for the environment. At Christmas there is the added benefit that it can free up space in your general waste bin – which can get unusually full around the Christmas holiday period.
You'll find a comprehensive guide to what items of Christmas waste can and can't be added to compost bins here and for more general items here. In summary it is possible to home compost your uncooked vegetable peelings, some of your wrapping paper (no glitter and sticky tape) and cardboard packaging.
Many people freely admit that they are reluctant to keep using their compost bin(s) in the winter, often because the journey between the kitchen and the compost bin is cold, dark, wet and generally unpleasant. If this is you, consider using lights and paving to make the journey less daunting. Making use of a kitchen compost caddy means that trips to the compost bin are less frequent too. New members to the Rot-a-lot club receive a free caddy on joining. If your compost bin is located in an inconvenient place perhaps consider moving it closer to your kitchen when the weather improves so you can make the most of it year round.
Some people believe that the composting process stops in cold weather. This isn't strictly true. The process slows in cold conditions and this can be exacerbated when the microorganisms that break down organic matter into compost are starved of food. A good way to get the process moving is to feed them i.e. to keep adding materials to the compost bin even in cold weather. Compost bins can also be insulated to keep them working through winter.
If you are a keen gardener with a greenhouse, you might be interested in these resources that demonstrate how it's possible to heat your growing space through the colder months using a hot compost bin.
A compost bin can make an excellent gift for a keen gardener or that person in your life who's keen on zero waste lifestyles. Leicestershire residents can purchase them at a subsidised price here. If you are thinking about getting one, have a look at this excellent guide to getting started here.
Put food waste in your general waste bin, and keep it out of your recycling collection
Food waste that you cant home compost should be placed in your general waste bin / your black wheeled bin. It should never go into your recycling collection as it will contaminate otherwise recyclable materials and make them un-recyclable. If your recycling collection is found to be contaminated it may not be collected.
Please rinse off any remaining food residue before putting any items in your recycling collection and ensure your recyclable items are loose, clean and dry. Further guidance is available here.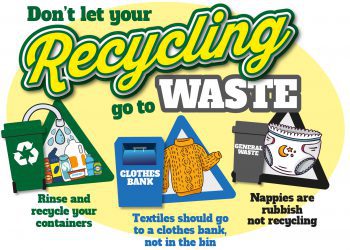 Find us on Facebook
Leave your feedback, ask questions or find out about the latest recycling news, events and free courses around Leicestershire
Find Us